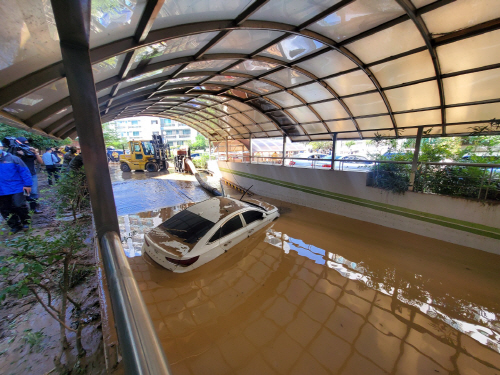 Firefighters working on drainage at a flooded underground parking lot in Pohang where seven people went missing after Typhoon Hinnamnor hit on Sept. 6, 2022./ Source: Yonhap
AsiaToday reporters Choi Jung-ah & Lee Sun-young
Typhoon Hinnamnor, the 11th typhoon this year, passed South Korea on Tuesday, leaving several dead and missing. It hit particularly Jeju, Busan, Ulsan as well as North and South Gyeongsang provinces. The government plans to closely monitor the damage and respond promptly for recovery.
According to the Central Disaster and Safety Countermeasures Headquarters, the country has reported three dead and nine missing as of 3 p.m. on Tuesday.
Power went out at some parts of Jeju Island, the first place to be hit. According to the Korea Electric Power Corporation (KEPCO), 18,053 households in the island experienced power blackouts. Two houses and buildings in Jeju have been inundated, with two vehicles reported to have been flooded and one fishing boat capsized in the aftermath of the typhoon.
The port city of Busan was battered by huge waves and heavy rain. A driver in his 50s was rescued by an emergency after he could not open the car door on a road in Amnam-dong, Busan, around 5 a.m. Tuesday.
Pohang in North Gyeongsang Province experienced the most damage in the country.
The port city saw nearly 400 millimeters of heavy rain overnight. Up to 100 millimeters of rain fell per hour in the city, flooding nearby roads and houses.
Eight people have gone missing and two deaths have been reported in Pohang. A woman in her 70s was swept away by flash floods in the middle of the road as she was trying to flee. Another died and seven others went missing in the city after heading down to an underground parking lot of an apartment building to salvage their vehicles from the rising waters.
Firefighters are currently carrying out an operation to drain the parking garage and find those missing.
In Gyeongju, a woman in her 80s died after her house was buried in a landslide. In Ulsan, a man in his 20s went missing under the influence of alcohol.
As the typhoon veered away from the Korean Peninsula on Tuesday morning, the government and local governments as well as residents of the affected areas are in the midst of restoration work. As flood damage occurred in 22 traditional markets across the country, SMEs and Startups Minister Lee Young held a meeting Tuesday and ordered local governments to check the damage and respond promptly until the restoration of damage is completely finished.
The KEPCO is accelerating the restoration work to prevent inconvenience in using power ahead of Chuseok, the Korean thanksgiving holiday. There were 199 blackouts reported nationwide as of 3 p.m. Tuesday due to the typhoon. A total of 89,180 homes suffered power outages, and around 45 percent of them have been recovered.