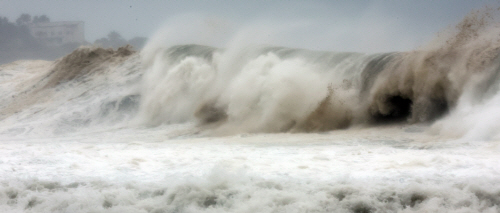 A huge wave crashes into rocks on the coastline near Jeju Island's Seogwipo City on Sept. 5, 2022./ Source: Yonhap
AsiaToday reporter Lee Sun-young
Typhoon Hinnamnor, the 11th typhoon of the year, is expected to make landfall on the country's south coast near Busan at around 7 a.m. on Tuesday and exit towards the country's eastern waters about six hours later.
"Hinnamnor is a very big typhoon with a radius of 400 kilometers, and can carry strong winds and heavy rainfall almost all across the country," the Korea Meteorological Administration (KMA) said Monday, urging to minimize possible casualties.
The typhoon is expected to pass through Jeju at around 1 a.m. on Tuesday and reach the coast of South Gyeongsang Province around 7 a.m. It is expected to pass 80 kilometers north-northwest of the southern port city of Busan by 9.m. and exit to the East Sea near Ulsan or Gyeongju city in North Gyeongsang Province before noon. "The typhoon is expected to move at a faster speed as it is gradually drawn by the jet storm in the upper atmosphere," the KMA said.
It is expected to approach the country with an atmospheric pressure of 950 hectopascals at its center and a maximum wind speed of 50 meters per second, the KMA said. Along with strong winds, heavy rainfall of up to 300 millimeters is expected across the country by Tuesday.
The KMA warned that the radius of the storm based on the typhoon route includes not only the southern regions but also the southern Chungcheong Province and parts of the southern parts of Gangwon Province. "Whether the typhoon moves toward left or right direction, it can cause great damage if it is within the radius of the storm," the KMA said.
In fact, Typhoon Chaba, which landed in Busan after passing through Jeju in 2016, was a much weaker one than Hinnamnor that slightly brushed Jeju and Busan. However, that typhoon killed 10 people and caused 215 billion won in property damage.
The estimated instantaneous maximum wind speed is forecast to reach between 40 and 60 meters per second in Jeju and coastal areas of South Jeolla and South Gyeongsang provinces on Monday and Tuesday.
Some mountainous areas in Jeju are expected to receive more than 600 millimeters of rain on Tuesday, while more than 400 millimeters of rain is expected in other parts of Jeju, the southern and eastern coast of Gyeongsang Province, as well as Ulleungdo and Dokdo.
In the central regions, a maximum of 300 millimeters of rain is expected to pour as warm air from the south and cold air from the north collide.