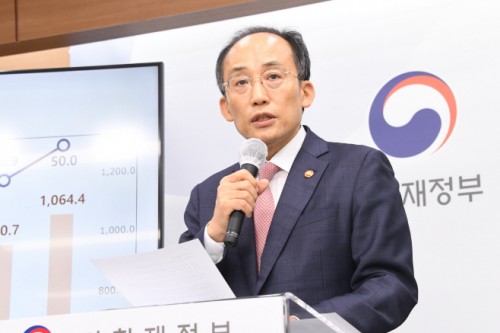 Finance Minister Choo Kyung-ho speaks during a briefing on the Budget Proposal for 2023 held at Sejong Government Complex on August 25, 2022./ Source: The Ministry of Economy and Finance
AsiaToday reporter Lee Ji-hoon
The government has proposed a budget of 639 trillion won (US$473.5 billion) for next year, an increase of 5.2 percent from this year. It will be the first time since 2010 that the budget proposal had been smaller than the preceding year's total spending. The move represents the government's shift to a belt-tightening policy to improve fiscal health amid complex economic crisis.
The government held a cabinet meeting on Tuesday and confirmed the 2023 budget plan including these details.
Next year's budget growth rate of 5.2 percent is lower than an average of 8.7 percent increase during predecessor Moon Jae-in's administration from 2018 to 2022. In fact, it is the first time in 13 years since the government budget has reduced spending. Besides, the growth rate of total spending is the lowest in six years since 3.7 percent in 2017.
"The Korean economy is facing a complex economic crisis in which concerns about an economic slowdown and unrest in the financial and foreign exchange markets continue amid high inflation. Amid such uncertainties, it is very important to improve fiscal soundness, the line of defense and safety valve for the economy," Finance Minister Choo Kyung-ho said during a briefing.
"If we do not tighten our belts from now on, we will have to face a bigger crisis without a shield," Choo said. "For this reason, the budget for next year was prepared considering the government's fiscal soundness," he added.
With a 5.2 percent increase in total spending next year, available financial resources increased by 31 trillion won compared to the previous year. However, the central government can spend only 9 trillion won, excluding 22 trillion won from local transfer funds such as local subsidy tax and local education subsidy.
The government has carried out major spending reform of 24 trillion won, securing a total of 33 trillion won in finance. The secured funds will be used for supporting low-income class suffering from high inflation.
"Concession and understanding of members of society is essential for sound finance as it entails expenditure restructuring," Choo said. "The funds prepared will be fully used to protect the common people and the socially disadvantaged and to expand investment for the future."
As the government shifts its focus from expansionary fiscal to sound fiscal, the debt-to-GDP ratio wil fall to 49.8 percent from 50 percent.