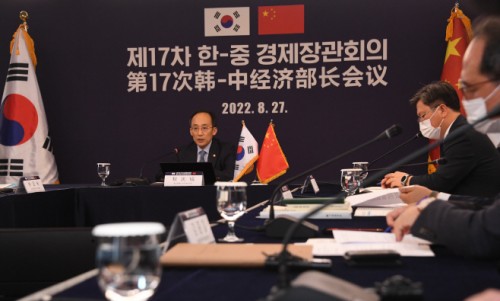 South Korea's Finance Minister Choo Kyung-ho speaks during the 17th Korea-China Meeting on Economic Cooperation held virtually on Aug. 27, 2022./ Source: The Ministry of Economy and Finance
AsiaToday reporter Lee Ji-hoon
South Korea has resumed discussions on economic cooperation with China for the first time in nearly 2 years. During the meeting, the two countries agreed to establish a consultative body to discuss global supply chain issues and to expand carbon-neutral policy exchanges.
According to the Ministry of Economy and Finance, Korea's Finance Minister Choo Kyung-ho met He lifeng, the minister in charge of China's National Development and Reform Commission, at the 17th Korea-China Meeting on Economic Cooperation held virtually on Saturday.
The economic ministerial meeting between the two countries was held for the first time since October 2020.
During the meeting, the two ministers discussed macroeconomic trends and policies. In detail, the two sides vowed to strengthen cooperation in economy and supply chain sectors as well as new industry and service industry fields. They also vowed to cooperate for joint entry into third countries, and exchange carbon-neutral policies.
First, the two countries agreed to jointly respond to supply chain instability. They signed a Memorandum of Understanding (MOU) for the first time to strengthen cooperation in supply chain field, and agreed to establish a director-level group on supply chain to discuss related issues in time.
The MOU is aimed at securing a discussion channel when any supply disruptions take place and further strengthening policy communication between the two sides.
In addition, an MOU for strengthening practical cooperation in the economic field was also signed at the meeting. With the MOU, the two sides agreed to strengthen exchanges between the governments as well as companies, local governments and research institutes, and jointly hold the 'Korea-China Meeting on Economic Cooperation' annually.
The two sides also agreed to expand policy exchanges to achieve the goal of carbon neutrality. The goal is to expand policy cooperation, which has been focused on fine dust, to the eco-friendly and low-carbon power generation fields, and to continue cooperation in the climate and environment sectors in the international community.
Apart from this, the two countries agreed to strengthen their joint overseas projects in a separate MOU.
They also plan to share experiences related to the development of the service industry and expand exchanges and cooperation such as cultural industry symposiums.
The two countries assessed that the meeting, held after nearly two years in commemoration of the 30th anniversary of the establishment of diplomatic ties, has great significance in opening the door to practical economic cooperation dialogue.
"Based on the growth and development between Seoul and Beijing over the past 30 years, we hope to normalize exchanges, that have been stagnant in the past due to the pandemic, in order to respond to the rapidly changing international environment and the global uncertainties," Choo said.