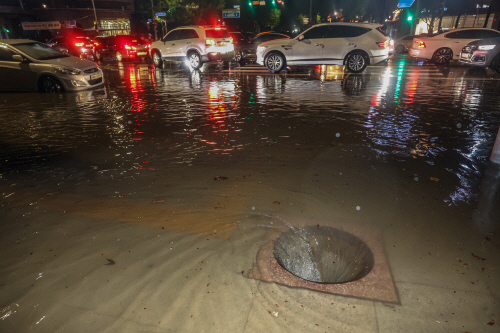 A drain uncovered in Gangnam District in Seoul due to heavy rain on Aug. 9, 2022./ Source: Yonhap
AsiaToday reporters Lee Sun-young & Kim Han-seul
The rain front that delivered the heaviest rainfall in 115 years to the Seoul metropolitan area is expected to return Thursday.
Seoul, Incheon and southern Gyeonggi Province will see an additional 20 to 80 millimeters of rain until Friday, while 80 to 200 millimeters of rain is expected in Chungcheong Province, northern Gyeongsang and North Jeolla Provinces.
The powerful rain front that hit Seoul and the surrounding regions on Monday moved south to Chungcheong, northern Gyeongsang and northern North Jeolla Provinces on Wednesday, according to the Korea Meteorological Administration (KMA).
The KMA issued a heavy rain warning for most regions of the Chungcheong Province, including Daejeon and Sejong city, and parts of the southwestern province of North Jeolla and the southern province of North Gyeognsang as of 3 p.m.
Nearly 60 millimeters of rain per hour battered Daejeon. Some districts of Daejeon were forecasted to receive rainfall of up to 300 millimeters until Thursday.
The KMA urged people to take special care as there may be flooding of low-lying areas and reservoirs. "We need to prepare for a possible flooding of farmlands and agricultural waterways as well as backflow of sewage," it said.
According to the government, the rainfall in the capital area from Monday to Wednesday afternoon left 16 people dead or missing and submerged more than 2,682 homes and buildings.
Cleanup and recovery efforts accelerated in the greater capital region on Thursday as the rain front was moving back to northward. Power outages hit several locations in Gangnam District. Residents of Jinheung Apartment, an apartment located in Daechi-dong of Gangnam District, have fled to nearby accommodations as power outages have occurred for two days. "We are running relief centers to accommodate the victims of Guryong and Dalteo Villages, and about 40 military units are expected to be deployed today," Gangnam-gu Office explained.
Three of the six missing were lost in Seoul's Seocho-gu district, including a woman who is reported to have been swept into a manhole. She was swept away with her brother, who was found dead around 3 p.m. Wednesday.
Meanwhile, the city government of Seoul decided to consult with the government to no longer give permission to construct basement or semi-basement homes, following the deaths of three family members in a flooded semi-basement home in Gwanak district Monday. As of 2020, five percent, or 200,000, of the total homes in Seoul had been in the basement or semi-basement levels.