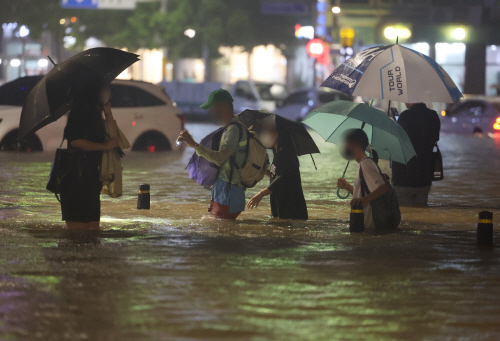 Pedestrians are seen walking near Daechi Station in Gangnam District amid a downpour on Aug. 8, 2022./ Source: Yonhap
AsiaToday reporters Park Ah-ram & Lee Sun-young & Kim Han-seul
Record rainfall, believed to be the heaviest in 115 years, hit Seoul and surrounding regions. Major roads and buildings were flooded in the capital region, with the rain in some parts of the city reaching more than 130 mm per hour. The rainfall left several dead and missing. It is expected to continue for 10 days at maximum, raising concerns about additional human and property damage.
The Korea Meteorological Administration's automated weather station (AWS) in Dongjak district recorded daily precipitation at 381.5mm for Monday, far higher than the official record of 354.7mm registered in August 1920 and the highest in 115 years since the country began its first modern weather observation system in 1907.
Major highways in Seoul such as the Olympic and Dongbu expressways were blocked Tuesday morning by the heavy rainfall, causing severe traffic congestion in various places.
Some drivers were isolated in tunnels due to the traffic control. The Seocho Tunnel connecting roads in Sadang-dong and Yangjae-dong were filled with vehicles Tuesday morning, leaving many drivers isolated. "It normally takes only 20 minutes to go through the Seocho Tunnel, but it took more than 3 hours this time," a Gwanak-gu resident surnamed Lee said.
Nearly 5,000 vehicles including 1,000 new foreign vehicles, flooded due to heavy rain. The estimated damage amounts to 65.8 billion won ($50.4 million), according to figures from the insurance industry.
The rainfall also caused a lot of casualties. At least 8 people have died and seven were missing as of 3 p.m. Tuesday in and around Seoul, according to the government,
In Gwanak-gu, southern Seoul, three people died after they were trapped in a semi-basement apartment. In Dongjak-gu, a district office employee in his 60s died while cleaning up tree branches that had fallen/ One person died after his house flooded. In Gwangju, Gyeonggi Province, one person was found dead under a collapsed bus stop, and another person was killed in a roadside landslide. In Hwaseong, Gyeonggi Province, another person died due to a landslide.
Hundreds of people were displaced by flooding in Seoul, Incheon and Gyeonggi Province. In Seoul, 840 people were displaced. They were provided shelter at nearby schools and community centers.