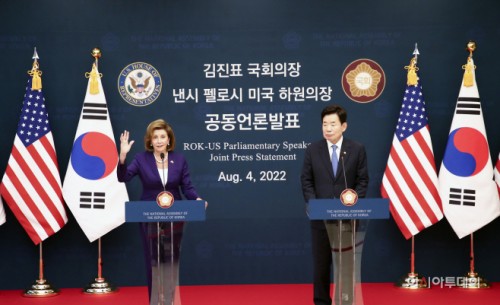 South Korea's National Speaker Kim Jin-pyo and US House Speaker Nancy Pelosi speak during a joint press conference on Aug. 4, 2022./ Photographed by Lee Byung-hwa
AsiaToday reporter Lee Wook-jae
President Yoon Suk-yeol held talks with US House Speaker Nancy Pelosi on Thursday over the phone and promised to cooperate closely with US Congress to set up a global comprehensive strategic alliance, as agreed upon during his summit with US President Joe Biden in May.
The phone talks were also accompanied by five other members of US Congress and US Ambassador to South Korea Philip Goldberg, according to Kim Tae-hyo, the first deputy director of the presidential National Security Office.
In the phone call, Yoon said he highly appreciated Pelosi's "long-term commitment to the promotion of liberal democracy and human rights." He also noted the significance of Pelosi's visit to the Joint Security Area (JSA) of the demilitarized zone, saying it will be an indication of the allies' strong deterrence capabilities against North Korea.
"The South Korea-US alliance is important in many ways but that above all it should be defended on ethical grounds," Pelosi said. "The two countries have an obligation to secure and cherish peace and prosperity that have been protected for decades through the sacrifice of countless people," she said, suggesting that the two countries jointly build a free and open Indo-Pacific order.
"Yoon had a one-on-one conversation with members of US Congress on different issues," Kim said. "They had a talk for quite a long time on issues such as diplomacy, national defense, technological cooperation, youth, women, and climate change."
Meanwhile, an official from the presidential office explained why President Yoon and Pelosi had a phone talk instead of a meeting in person. "About two weeks ago, the plan of Pelosi's visit was discussed, and at that time, President Yoon's vacation plan was confirmed," the official said. "Pelosi's side fully understood that there was no meeting with Yoon."
"Two weeks ago, we decided not to meet, and Pelosi's trip to Taiwan was decided about a week ago. It was not because we were wary of the potential impact on South Korea-China relations," the official said.