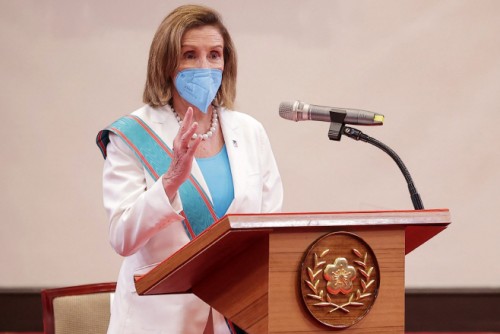 U.S. House Speaker Nancy Pelosi delivers her speech at the presidential office in Taipei, Taiwan, on Aug. 3, 2022./ Source: Taiwan's Presidential Office
AsiaToday reporter Chun Hyun-bin
U.S. House Speaker Nancy Pelosi has visited South Korea after her trip to Taiwan. This is the first time in 20 years since a U.S. House Speaker visited South Korea in 2002. Pelosi visited South Korea in 2015 as Democratic leader and met by-then President Park Geun-hye.
Pelosi will meet National Assembly Speaker Kim Jin-pyo on Thursday to discuss the situation on the Korean Peninsula. The meeting is expected to become a forum for parliamentary diplomacy, and various issues, including security, economic cooperation in the Indo-Pacific region, and climate crisis are to be discussed. Rep. Kweon Seong-dong of the ruling People Power Party and Rep. Park Hong-geun of the main opposition Democratic Party will take part in the meeting between Kim and Pelosi. The two speakers will hold a joint press conference on the situation in Northeast Asia and Korea-US relations before having lunch together at the National Assembly. Four members of the National Assembly's Foreign Affairs and Unification Committee are reportedly to attend the luncheon.
Pelosi will then meet US Ambassador to Korea Philip Goldberg.
In the past, when a US House Speaker visited Korea, it was customary to pay a visit to a South Korean president. However, there will be no meeting between Pelosi and President Yoon Suk-yeol, who is currently on summer vacation. "We did not arrange schedule between President Yoon Suk-yeol and US House Speaker Pelosi due to scheduling conflicts," an official from the presidential office said. "We welcome Speaker Pelosi's visit to Korea, and hope to make achievements during the talks between the Speakers of the two countries," the official said.
Some media reports raised the possibility of a meeting between Yoon and Pelosi on Thursday, but the presidential office denied the reports.
Initially, an official from the presidential office had explained that they were arranging the meeting since Yoon's schedule, but the presidential office later confirmed that there is no planned meeting. "Nothing has changed from this morning's briefing. A meeting between President Yoon and House Speaker Pelosi will not take place due to the president's vacation schedule," Yoon's office said. According to another official, there was no coordination process for the meeting at all.
Pelosi does not have any plans to meet other senior presidential officials. There will be no separate meeting between Pelosi and Foreign Minister Park Jin, who embarked on his trip to Cambodia Wednesday to attend Association of Southeast Asian Nations-related ministerial meetings.