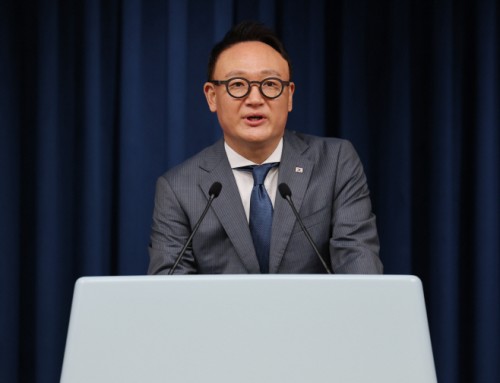 Ahn Sang-hoon, the senior presidential secretary for social affairs, speaks during a press conference at the presidential office in Seoul on August 2, 2022. Source: Yonhap
AsiaToday reporter Lee Wook-jae
The presidential office announced Tuesday that it will carry out pension reform with a 'two-track strategy' of structural and parametric reforms.
The structural reform is aimed at readjusting the multi-layered pension structure that includes national pension, special area pension, retirement pension, housing pension, and special occupational pensions for public officials, private schools, and military personnel. The parametric reform refers to adjustment of the payment rate and contribution rate within a single system. The government believes that the pension reform would fail if it creates and pushes a specific reform plan, thus it plans to focus on publicizing the issue first.
"The purpose of pension reform is to ensure an appropriate level of income for elderly, establish a fair system between direct and intergenerational system, and secure financial sustainability," said Ahn Sang-hoon, the senior presidential secretary for social affairs. "We have a two-track pension reform strategy comprised of structural and parametric reforms."
"The previous governments have not been able to do what they should have done five or ten years ago," Ahn said. "It takes more than a decade to successfully carry out the structural reform in developed countries. It is not easy for South Korea to carry it out because of the nation's five-year single-term system. It was an inevitable choice of the previous governments."
"The structural reform is expected to take at least 10 years," he said. "Considering those foreign governments that have succeeded in structural reform pushed ahead with specific proposals. The Yoon Suk-yeol government will make efforts to publicize it while taking the role as a facilitator of reform."
Ahn also expressed hopes that the structural reform could speed up. "The good news is that during the last presidential election, all the four major presidential candidates agreed on pension reform," he said. "A bipartisan opportunity for pension reform has been prepared, and the National Assembly recently agreed to establish a special committee on pension reform. Structural reform will begin, and both the government and the National Assembly will team up to lay the groundwork for the centennial era in relation to guaranteeing old-age income."
In relation to the parametric reform, Ahn said the Ministry of Health and Welfare would be in charge of the parametric reform of the national pension and push it forward.