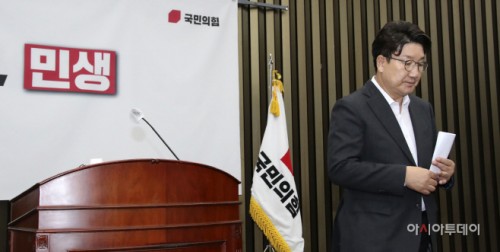 Kweon Seong-dong, acting chair of the ruling People Power Party (PPP), is returning to his seat after speaking at a general meeting of lawmakers at the National Assembly held on Aug. 1, 2022./ Photographed by Lee Byung-hwa
AsiaToday reporter Chun Hyun-bin
Acting chair Kweon Seong-dong of the ruling People Power Party (PPP) has offered to resign and his position has changed abruptly in just over a month. After the party leader Lee Jun-seok was suspended, Kweon was said to have formed a one-man leadership by taking control of the party. But now, he is being urged to resign as acting chair. As most of the PPP lawmakers agreed to switch the party to the emergency committee system, Kweon's critical situation is expected to continue for a while.
PPP floor leader Kweon suffered a blow to his leadership after his conflict with Rep. Chang Je-won. Then he has risked himself with remarks related to hiring a presidential office employee. The biggest blow was when his text messages with President Yoon were exposed by the press, in which Yoon described PPP chairman Lee as a troublemaker while encouraging Kweon. This incident has forced Kweon to resign from his role as acting chair. Yoon's encouragement to Kweon has hit him back.
Many PPP lawmakers pointed out that Kweon has escalated internal conflicts when party reform and coordination was needed the most. Sung Il-jong, head of the PPP's policy committee, dropped hints at his possible resignation as the policy committee chairman, saying, "I will take responsibility for the party's innovation and reform and do whatever it takes."
There are also concerns from in and out of the party that a conflict between Kweon and pro-Lee Jun-seok has begun after the text message scandal. PPP supreme council member Kim Yong-tae, who has close ties with Lee Jun-seok, called for Kweon's resignation. "I think the floor leader should also resign," Kim said in a radio interview on Monday. Daegu mayor and senior PPP member Hong Joon-pyo wrote on his Facebook calling for Kweon's resignation.
The ruling PPP held a general meeting of party lawmakers Monday, and most of the lawmakers agreed to shift to a collective leadership system, with the exception of a minority. On the surface, it seems the PPP is settling the mood fast following the text message scandal. However, the conflict within the party is likely to continue due to possible objections from suspended party chairman Lee Jun-seok and his allies. The decision to switch to an "emergency committee system" would foreclose the possibility of Lee's return as party chair. Lee is expected to take a firm stand and take legal action against the party's ethics committee that suspended Lee for six months.
The conflict between Yoon's close aides and Lee's aides is being reignited. This is in line with strong opposition of supreme council member Kim over the party's switch to an emergency committee system. The ethics committee's punishment on Lee seems to have ended with Yoon's victory, but the power struggle has started again from the beginning. In addition, competition among the next party leaders including Ahn Cheol-soo, Kim Ki-hyun and Jeong Jin-seok is expected to begin. It is uncertain whether the PPP would overcome the crisis soon.