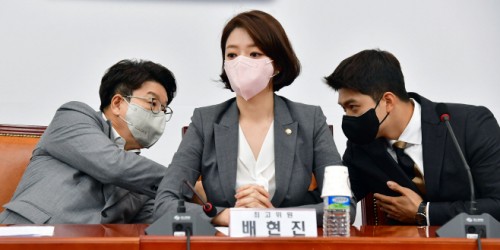 The ruling People Power Party's acting leader Kweon Seong-dong shakes hands with PPP supreme council member Kim Yong-tae at the Supreme Council meeting held at the National Assembly on July 29, 2022./ Source: National Assembly Press Corps
AsiaToday reporter Chun Hyun-bin
The leadership of the ruling People Power Party is in turmoil after the text message scandal of Kweon Seong-dong, the party's acting chairman and floor leader. Kweon said Sunday he has tendered his resignation from the acting chief after Rep. Cho Su-jin said she was stepping down from the party's Supreme Council. The move comes two days after the resignation of Rep. Bae Hyun-jin from the council. Shortly after Kweon's remarks, Rep. Yoon Young-seok also announced his resignation.
Kweon offered to resign in a Facebook post. "The party is now facing a grave crisis," he said. "I respect the resignation intentions of a number of Supreme Council members and agree with the opinion that a prompt resolution to the party's current dispute is required," he said, adding that he will give up his role as the acting chairman. "I will make every effort to swiftly make the transition to an emergency committee system."
Kweon assumed the role of party leader after the party's ethics committee disciplined party chief Lee Jun-seok on July 8. As he was serving as the floor leader, many believed that the party has come under one-man leadership. However, his intensifying conflict with Rep. Chang Je-won, one of the key officials of President Yoon Suk-yeol, put the brakes on the one-man leadership. Kweon lost ground due to various controversies over several times.
Besides, there was a growing call for the ruling party's reform amid faltering approval ratings of President Yoon and the party. Many lawmakers of the ruling party also called for the party to be operated under an emergency committee.
Kim Tae-heum, South Chungcheong Province Governor, criticized the PPP leadership before Kweon offered to resign and called for a swift transition to an emergency committee system. "The president's approval rating has fallen to the 20 percent level, but the acting leader continues to ruin in vain," he said. His remarks came after Rep. Cho stepped down from the Supreme Council.
In the end, Kweon took a step back in response to the continued demand for an emergency committee system from pro-Yoon lawmakers and the request for an early national convention. The struggle for power over a new leadership of the party seems to be getting fiercer. Besides, the political situation is expected to fluctuate depending on how the presence of Rep. Ahn Cheol-soo or Rep. Kim Ki-hyun, who are considered as the next party leaders, is presented under the emergency committee system.
However, as opposition from pro-Lee lawmakers is expected, the conflict within the party is unlikely to ease immediately. Other supreme council members Kim Yong-tae and Jung Mi-kyung, who are close to Lee, are said to have no intention of resigning. They are expected to maintain their positions at the Supreme Council as Lee's return would be fundamentally blocked once an emergency committee system is established.