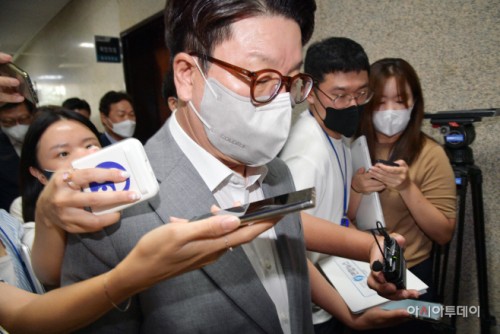 Rep. Kweon Seong-dong, acting chair and floor leader of the ruling People Power Party (PPP)/ Photographed by Lee Byung-hwa
AsiaToday reporter Lee Wook-jae
The leadership of Rep. Kweon Seong-dong, acting chair and floor leader of the ruling People Power Party (PPP), has been damaged after a text conversation he had with President Yoon Suk-yeol was caught on camera. Kweon's position as the PPP leader is shaking up since this is already the third "trouble" he has made following an agreement on amending laws related to prosecution reform and presidential office hiring blunder. Some are even calling for his resignation.
Rep. Kweon apologized Wednesday over the incident, saying, "I apologize to fellow party members and the people for causing concern by leaking a personal conversation due to my carelessness."
On Tuesday, Kweon was caught on press cameras writing a text message to Yoon on his mobile phone. The screen showed earlier messages from Yoon backbiting about suspended party chief Lee Jun-seok for focusing on an internal fight rather than attacking the opposition party.
There are several interpretations of the 'true intent' of the text messages, but many point out that the exposure of the conversation itself put a great burden on the president. There are also voices calling for Yoon to come forward to make his stance clear. "If the president himself comes forward and explains everything, it will be very difficult for him to carry out state affairs," an official from the presidential office said.
As Rep. Kweon continues to stir controversies that can influence not only the party but also the operation of state affairs, some are casting a doubt on Kweon's leadership.
Previously, Rep. Kweon had withdrawn an agreement reached with the main opposition Democratic Party (DP) on a prosecution reform bill due to internal opposition. He was criticized for his misjudgment and putting the ruling party renegotiate at a disadvantage due to the overturn of the agreement. He also came under fire over the hiring of a presidential office employee.
As the ruling party is trying to manage the situation, Kweon's position is unlikely to change. However, he may take responsibility if President Yoon Suk-yeol's approval rating, which went down to the 30 percent level, declines.
In addition, Kweon's position is likely to be affected by PPP chairman Lee's next actions. Lee expressed displeasure over the incident, saying, "On the island, they advertise lamb but then sell dog's meat."