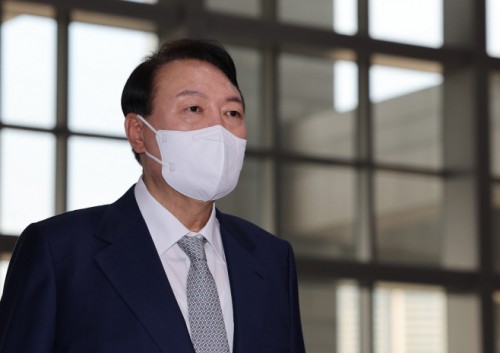 President Yoon Suk-yeol responds to reporters' questions on his way to the presidential office in Seoul on July 26, 2022./ Source: Yonhap
AsiaToday reporter Lee Wook-jae
Tension between the government and the police is escalating over the government's plan to establish a police bureau.
The government is taking a strong stance against the collective action by the police. President Yoon Suk-yeol on Tuesday pointed out that the police's internal protest was a "serious breach of national discipline." However, the police are planning to hold a general meeting of 140,000 police personnel, escalating standoff with the government.
"National defense and public safety are the basic functions of a country, and their supervisor is the president," Yoon told reporters on his way to the presidential office in Seoul. "A collective protest against the president's and the government's policies being pursued under the Constitution and the law could be a serious breach of national discipline," he said. "Various opinions may exist, but the basic order and discipline of the country should not be shaken."
Yoon's hardline stance came as Interior and Safety Ministry and front-line police officers clashed head-on over the police bureau plan, with senior superintendents gathering in protest and Interior minister Lee Sang-min likening the collective action to a "coup."
Along the strong message, the government has passed an enforcement decree to establish a police bureau under the interior ministry at a Cabinet meeting chaired by Prime Minister Han Duk-soo. Under the decree, the envisioned unit will comprise 13 members. The motion will be promulgated and put into effect on Tuesday.
"The decree aims to enable the interior minister to handle the command over the National Police Agency in a more transparent and democratic manner, a responsibility previously managed by the office of the senior presidential secretary on civil affairs," the prime minister said.
Despite the government's push for the police bureau establishment, the police is expected to continue its collective action. The police originally planned to hold a meeting involving senior inspector- and inspector-level officers but has now decided to expand it to include all ranks.