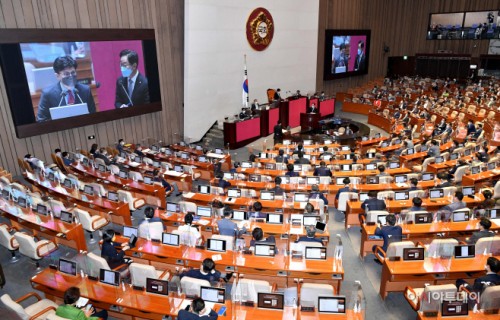 Justice Minister Han Dong-hoon answers to a question of Democratic Party lawmaker Park Beom-kye during a government inquiry in the fields of politics, diplomacy, unification, and security held at the main assembly hall of the National Assembly in Yeouido, Seoul, on July 25, 2022./ Photographed by Lee Byung-hwa
AsiaToday reporter Kim Na-ri
Park Beom-kye, the last justice minister under the Moon Jae-in administration and a member of the main opposition Democratic Party (DP), and Han Dong-hoon, the first justice minister under the Yoon Suk-yeol administration, engaged in a war of words during the Yoon administration's first interpellation on Monday. Park attacked Han over controversial personnel appointments and a newly launched personnel vetting unit within the justice ministry. However, Han did not back down and clashed with Park.
Park was the first one to ask questions at the government inquiry in the fields of politics, diplomacy, unification, and security held at the National Assembly. "When will you appoint the prosecutor general?" Rep. Park asked Han, adding that Han replaced hundreds of high-level and public prosecutors without prosecutor general.
In response, Han said, "When you were a justice minister, you completely ignored by-then prosecutor general Yoon Suk-yeol and carried out the personnel appointments." Some lawmakers among the ruling People Power Party (PPP) laughed and applauded. "No way," Park shouted in anger.
Han stressed there is no precedent in which the opinion of the prosecution has been clearly reflected as in this appointment, saying, "I am certain that the prosecution's personnel opinions have been reflected more than ever before." He added that there was no prosecutor general when Yoon Suk-yeol, then chief prosecutor, was appointed under the previous administration.
Rep. Park responded, "I had two rounds of personnel consultations with Yoon. It took two hours each, of which Yoon talked for 1 hour and 50 minutes. Do you call it a passing?"
Han answered, "No. I am saying that I have faithfully consulted personnel." He added that he has consulted with the current deputy chief prosecutor more than 10 times.
When Rep. Park pointed out that personnel consultation between prosecutor general and justice minister is the sole authority of the prosecutor general, which cannot be done by acting chief, Han said it is a "wrong judgement." Park sarcastically said, "It seems you don't know about the so-called constitution and laws because you were busy with investigation." Minister Han replied, "People will see and judge."
Park and Han clashed over the launch of personnel vetting unit within the ministry. Park claimed that it was illegal for the government to revise the Justice Ministry system such that the unit was under the direct control of the justice minister. When Park asked whether there is a provision in the Government Organization Act that includes the Justice Ministry's personnel affairs, Han responded that personnel vetting work is not new, and that was what Cheong Wa Dae's senior presidential secretary for civil affairs did in the past. "If it's wrong for me to do this work, then all the work the government's senior presidential secretary for civil affairs has done would be illegal," Han said.
Park also asked, "Why should the justice minister vet the prime minister, the presidential chief of staff and senior secretaries?" Han replied the verification work, which had been conducted behind closed doors, will now be conducted openly. "I think this is a step forward in increasing transparency and objectivity," Han added.