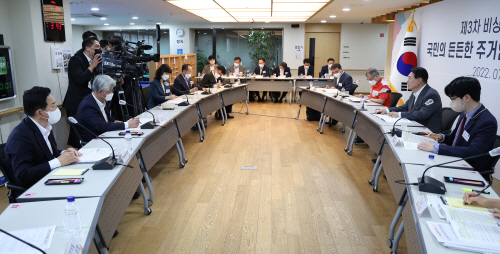 President Yoon Seok-yeol (second from left) speaks during an emergency economic meeting at a welfare center of a public rental housing complex in Seongnam, south of Seoul, on July 20, 2022./ Source: Yonhap News
AsiaToday reporter Lee Chul-hyun
The government has announced a package of measures to tackle people's housing cost burden, such as freezing interest rates on mortgages and housing rent loans, and designating regions where apartments are rented with key money deposits exceeding 9% of their estimated sale price for special management. It also decided to take measures against "jeonse" frauds and provide support for victims of such frauds.
The announcement came during an emergency economic meeting presided by President Yoon Suk-yeol at a public rental housing complex on Wednesday.
The key measures are focused on reducing people's housing cost burden, expanding the supply of housing, and reinforcing protection of tenants' deposits.
First of all, the government decided to freeze interest rates on "jeonse" loans. Jeonse is a unique Korean housing rental system where a tenant deposits a large amount of money instead of paying monthly rent to a landlord. The jeonse loan is a loan product with relatively low interest rate of 1.2 to 2.4 percent for people with an annual income of less than 50 million won. According to the Ministry of Land, Infrastructure and Transport, the freeze measure is expected to save 315 million won in interest per year under assumption that each person receives a loan of about 63 million won, compared to a 0.5 percentage point increase in the base rate. About 65,000 households are expected to directly benefit from the freeze measure in the second half of this year.
The government will expand the limit on lease loans to newlyweds and young people. For newlyweds, it will be expanded to 300 million won from 200 million won in the capital area, and 200 million won from 160 million won in rural areas. For young people, it will be increased to 200 million won from 70 million won.
The government will also expand deposit and limit on jeonse loans for low-income tenants whose renewal contract expires within one year. In the Seoul capital area, the deposit will be increased to 450 million won from 300 million won, and the loan limit will be increased to 180 million won from 120 million won. It will be applied starting next month.
The freeze on rent for LH public rental housing for 1,065,000 households nationwide will also be extended by one year. The monthly rent support for young people will begin in November this year. Up to 200,000 won per month for up to 12 months will be provided for young people with income below 60 percent of the median income.
At the same time, the government aims to provide more homes. It decided to secure 3,000 homes for jeonse rentals that are cheaper than market price, and 2,000 public homes for rentals within the second half of this year. It plans to announce public housing supply roadmap in August and youth housing measures in September.