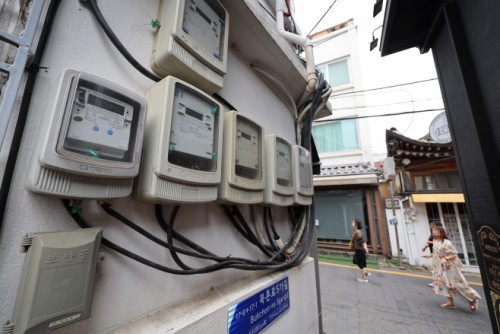 The photo shows electricity meters set up in a residential area in Seoul./ Source: Yonhap News
AsiaToday reporter Choi Won-young
South Korea's average power bill for a four-person household will rise by 2,220 won per month and around 2,220 won will be added to their gas bill starting next month. As the government decided to raise electricity rates amid mounting inflationary pressure, industry view is that the country's consumer prices may reach the 6 percent range in the second half of the year.
The Ministry of Trade, Industry and Energy and the Korea Electric Power Corp. (KEPCO) announced Monday that they will raise the adjusted unit fuel cost by 5 won (US$0.0039) per kilowatt hour for the July-September period. With the 5 won hike in the electricity rate, the monthly power bill for four-member households with an average monthly electricity use of 307 kWh is expected at 1,535 won more in the third quarter. In line with the power bill adjustment, the government also said it will raise natural gas prices for households and for commercial use by 1.11 won per megajoule next month.
"The decision to raise the electricity price was inevitable due to sharp increase in electricity prices and worsening financial condiions of KEPCO)," the state-run power firm said in a statement. In fact, KEPCO saw almost 8 trillion won ($6.06 billion) in losses in the first quarter. Industry observers say the company could lose as much as 30 trillion won this year if it doesn't adjust its prices.
Recently, KEPCO said it would seek every possible measure, including selling assets and restructuring, to minimize rate hike factors and to improve its financial structure of more than 6 trillion won. Korea Gas Corporation (KOGAS) also said the price increase was inevitable as international oil prices, natural gas spot price and exchange rates have soared, but it tried to minimize the price hike in consideration of inflation.
Finance Minister Choo Kyung-ho appeared on a TV show on Sunday and said, "We cannot delay the electricity rate hike anymore. The price increase is due to the wrong energy policy over the past five years." The minister said the country is inevitably being affected by the rise in international oil prices and the sharp increase of the price of raw materials and international grain prices. "The country's consumer prices many jump to 6 percent in the second half of the year, and high inflation may continue for a while."