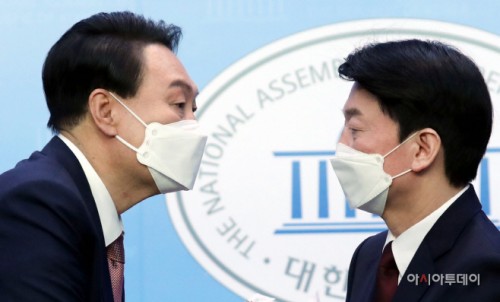 Yoon Suk-yeol, by-then the presidential candidate of the main opposition People Power Party (PPP), greets Ahn Cheol-soo, by-then the presidential candidate of the minor opposition People's Party, after holding a press conference on candidacy merger at the National Assembly on March 3, 2022./ Photographed by Lee Byung-hwa
AsiaToday reporter Kim Na-ri
Transition team Chairman Ahn Cheol-soo has canceled all of his official schedules Thursday. President-elect Yoon Suk-yeol's attempt to form a coalition government with Ahn Cheol-soo is highly likely to fall as a rift between the two appears to be deepening over ministerial nominations.
Ahn called off his scheduled visit to the Seoul Metropolitan Fire & Disaster Headquarters on Thursday morning, after not showing up at the transition committee's meeting with Yoon the previous day. His recent move is raising speculation that he is showing frustration over Yoon's Cabinet nominations a day earlier as none of the nominees came from Ahn's recommendations.
"Chairman Ahn Cheol-soo's schedule for Friday has not been decided yet," transition team spokesperson Shin Yong-hyun told AsiaToday. Ahn is expected to take time to assess the current situation.
Earlier, Ahn competed with Yoon during the presidential election campaign, but withdrew his candidacy to endorse his rival Yoon just a week before the March 9 election. While merging their campaigns, the two agreed to launch a joint government and merge their parties after the election. Reportedly, Ahn recommended at least four people for the Cabinet, including Rep. Lee Tae-kyu of the People's Party, raising expectations for a coalition government. However, they were not included in the list of nominees. Besides, Yoon apparently did not share the nomination plan with Ahn in advance, and bypassed Ahn's recommendations.
Yoon denied excluding those close to Ahn from the nominations, saying, "It is not true that specific figures have been excluded. After announcing labor and agriculture ministers, Yoon denied trouble with Ahn. "I don't really understand. I received his recommendations, and gave him an explanation of how the personnel appointments are proceeding. I don't think there are problems related to that," Yoon said.
On his way to the transition committee's office, Yoon said, "A joint government is about working together to find great people and assign them a job. It's not about excluding specific figures."
Due to the conflict, the planned merger between the PPP and the People's Party is becoming uncertain. Both parties have reportedly completed internal discussions about the merger and were about to declare. However, there has been no progress since Rep. Lee Tae-kyu of the People's Party resigned his post at the transition committee Monday, without clarifying reasons.
In response, Yoon's spokesperson Bae Hyun-jin told reporters, "We have faith that Ahn will take his responsibility until the end."