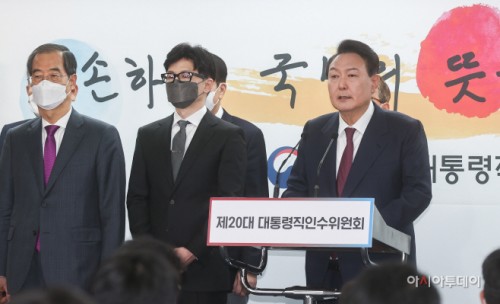 President-elect Yoon Suk-yeol introduces Justice Minister nominee Han Dong-hoon in a press conference at the transition team's office in Tongui-dong, central Seoul, Wednesday./ Source: Joint Press Corps
AsiaToday reporter Kim Na-ri
President-elect Yoon Suk-yeol has nominated senior prosecutor and his former colleague Han Dong-hoon as the first Justice Minister under his incoming administration on Wednesday.
In addition, Yoon named seven other Cabinet ministers, including Kim In-chul, former president of the Hankuk University of Foreign Studies, as next deputy prime minister and education minister, Rep. Park Jin as foreign minister, Rep. Kwon Young-se as unification minister, former vice chief of the Anti-Corruption and Civil Rights Commission Lee Sang-min as interior minister, honorary researcher of the Korea Environmental Institute Han Wha-jin as environment minister, former head of the Korea Institute of Marine Science and Technology Promotion Cho Seung-hwan, and Rep. Lee Young as SMEs minister. Yoon also tapped Kim Dae-ki, an economic technocrat who served as a senior presidential secretary, for his chief of staff.
The president-elect announced his second round of Cabinet appointments in a press conference at the transition team's office in Tongeui-dong, central Seoul.
Regarding Han Dong-hoon's appointment, Yoon stressed his 20 years of expertise in the legal field, including investigation, trial and prosecution. "I think he is the right person to modernize the administration of our legal system and to establish a judicial system that meets global standards," Yoon said.
Han is considered a close associate of Yoon who had worked under Yoon in many large-scale criminal investigations, including those on SK Global accounting frauds, a slush fund scandal related to a presidential election campaign, financial irregularities at Hyundai Motor, the scandal-ridden sale of Korea Exchange Bank to U.S. hedge fund Lone Star, and a corruption scandal involving former President Park Geun-hye and her confidante Choi Soon-sil. Initially, Han had been considered as a candidate for the head of the Seoul Central District Prosecutors' Office. Thus, Yoon's surprise pick of Han for justice minister has shocked many.
However, when asked whether he'd made a surprise choice, Yoon denied, stressing Han's expertise. "I believe he is the right person to be in charge of judicial administration through planning tasks in the judicial administration and the prosecution, as well as in the field of law enforcement."
Regarding education minister nominee Kim In-chul, Yoon said that he is an educator who has called for education reform based on his rich experience in the education field. "Kim is the right person to prepare for the 4th industrial revolution through reform of the Ministry of Education and innovation in higher education, and to design fair educational opportunities and educational diversity for growing children and young people," Yoon said.
On foreign minister nominee Park Jin, Yoon said Park is known for his expertise on diplomatic affairs. "I believe Park is the right person to make a significant contribution to normalizing the deadlocked diplomacy and making Korea a global pivot that fulfills its responsibilities and solidarity in the international community," Yoon said.
On unification minister nominee Kwon Young-se, Yoon praised him as a "centrist and pragmatist" who led internal reforms and mediated conflicts within the conservative People Power Party. "I believe he will play a big role in resolving the North Korean nuclear weapons issue in the future and manage the situation on the Korean Peninsula stably," Yoon said.
So far, Yoon has completed the announcement of 17 minister nominees in total. Two of the 18 Cabinet seats remain unoccupied, including the labor and agricultural ministries.
Yoon's first Cabinet member list in the first and second rounds is dominated by men with Seoul National University diplomas. Out of the 8 members announced Wednesday, only one member is in his 40s, three in their 50s, and four in their 60s. Four graduated from Seoul National University, and three were born in Seoul.
Meanwhile, figures close to presidential transition committee chairman Ahn Cheol-soo were exempt from the first and second round of Cabinet nominations.