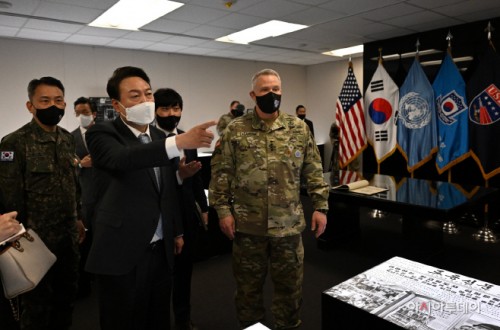 President-elect Yoon Suk-yeol talks with the commander of the U.S. Forces Korea (USFK) and the South Korea-U.S. Combined Forces Command, Paul LaCamera, and the Deputy CFC Commander, Kim Seung-kyum, at Camp Humphreys, a U.S. Army base in Pyeongtaek, Gyeonggi Province, on April 7, 2022./ Source: Press Office of the U.S. Forces Korea (USFK)
AsiaToday reporter Kim Na-ri
President-elect Yoon Suk-yeol on Thursday visited Camp Humphreys, a U.S. Army base in Pyeongtaek, and stressed the importance of maintaining a strong deterrence against North Korean threats through the South Korea-U.S. military alliance.
"The first military base I visit as President-elect is Camp Humphreys, the heart of the South Korea-U.S. military alliance," Yoon said. "Reinforcing deterrence through the Korea-U.S. military alliance and combined defense posture cannot be emphasized enough in light of the current grave security concerns surrounding the Korean Peninsula including North Korea's intercontinental ballistic missile launch," he said.
"The freedom and prosperity the Republic of Korea enjoys today is possible through the dedication and sacrifice of the numerous soldiers gone before us," Yoon said as he thanked the troops under the command of Paul LaCamera, the commander of the U.S. Forces Korea (USFK) and the South Korea-U.S. Combined Forces Command (CFC).
In response, the U.S. commander stressed the importance of the "iron-clad alliance", saying that it would be a dereliction of duty to not do everything to bring stability to the Korean Peninsula. He expressed the firm will of the U.S. Forces Korea, which is providing a strong combined defense posture to strengthen the South Korea-U.S. alliance and maintain peace, security and stability on the Korean Peninsula.
Yoon's visit to the military base can be seen as a move to strengthen the response posture against North Korea, which is raising tensions in the Korean Peninsula with nuclear and missile threats, and to strengthen the Korea-U.S. alliance ahead of joint South Korea-U.S. drills.
Yoon flew by helicopter to Camp Humphreys and met with USFK commander Gen. Paul LaCamera and Deputy CFC Commander Gen. Kim Seung-kyum to check the South Korea-U.S. combined defense posture.
The visit was accompanied by People Power Party's Rep. Sung Il-jong, presidential transition committee members Kim Tae-hyo and Lee Jong-seob, and more.
Camp Humphreys is a key base for U.S. Forces in Korea, where the UN Command, USFK, Eighth Army, and 2nd Infantry Division/ CFC are stationed. The CFC is currently in the process of relocating to Camp Humphreys from Yongsan in Seoul.