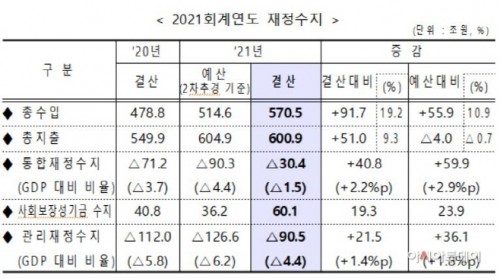 Source: The Ministry of Economy and Finance
AsiaToday reporter Im Cho-rong
South Korea's national debt exceeded 2,100 won trillion won last year as the country implemented expansionary fiscal spending to tackle the fallout of the pandemic. The country's national debt has exceeded gross domestic product (GDP) for the second consecutive year.
The government in a Cabinet meeting on Tuesday reviewed the 2021 national settlement. It plans to submit the settlement report, approved by the Cabinet, to the National Assembly by end of May after a review by the state audit agency.
According to the report, the national debt stood at 2,196.4 trillion won last year, up 214.7 trillion won from a year earlier. It exceeded the country's GDP in 2021, which stood at 2,057.4 trillion won. It is the second consecutive year that the national debt has exceeded the GDP since 2012, when the government began to submit national settlement reports.
This is an increase of 763.3 trillion won or 53.3 percent, compared to 1,433.1 trillion won at the end of 2016 before the Moon Jae-in government was inaugurated. It is an increase of 452.8 trillion won from the end of 2019 before the outbreak of the COVID-19 pandemic.
The national debt is calculated by adding the present value of the pension amount to be paid by the government, such as public officials' pension and military pension, in addition to the debts of the central and local governments.
Among them, fixed liabilities, such as government bonds and borrowings, increased by 10.6 trillion won or 14 percent, to 818.2 trillion won. This is because the country drew up a national budget of 558 trillion won and created two rounds of extra budgets worth 49.8 trillion won to support those hit hard by the pandemic. Unconfirmed liabilities, including public officials' pension and military pension, increased by 114.1 trillion won or 9 percent, to 1,378.2 trillion won.
The government's total revenue amounted to 570.5 trillion won last year, and its total expenditure rose to 600.9 trillion won. The consolidated fiscal balance posted a deficit of 30.4 trillion won last year, narrowing from a shortfall of 71.2 trillion won a year earlier. However, considering that the tax revenue was 61.4 trillion won more than expected, it is pointed out that the government spent too much.
The managed fiscal balance, a measure of fiscal soundness calculated after excluding the balance of social safety funds, posted a deficit of 90.5 trillion won. It improved from a shortfall of 112 trillion won in 2020, its deficit compared to GDP is still -4.4 percent.
Net assets, a ga between assets and liabilities, reached 643.5 trillion won, up 138.1 trillion won or 27.3 percent from a year earlier. It marked the fastest on-year growth since 2011.