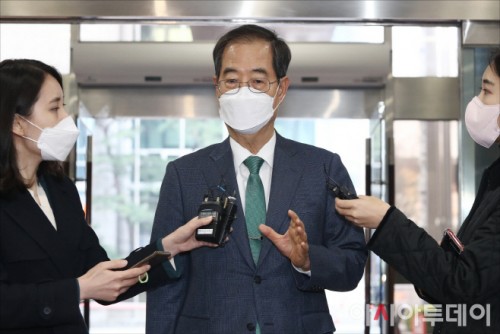 Prime Minister nominee Han Duk-soo answers reporters' questions while entering his office in Jongno District, Seoul, on April 4, 2022./ Photographed by Song Eui-joo
AsiaToday reporter Jeong Geum-min
President-elect Yoon Suk-yeol's nomination of Han Duk-soo as his first prime minister has put the Democratic Party (DP) in a dilemma. For the ruling party, it is an opportunity to take the lead in handling state affairs through a confirmation hearing, but it is taking a cautious stance toward Han, since he previously served in the prime minister post during liberal administrations. If the DP criticizes Han over his past experiences in those administrations, the party could end up contradicting itself.
The DP announced that it will conduct a thorough verification of the nominee's qualifications in his hearing.
"His career in the previous administrations is not important," said DP floor leader Rep. Park Hong-keun. "We will immediately establish a task force for the hearing to prepare for thorough verification," he said. His remarks indicate that the party will verify Han's competence regardless of his past experience as the 38th prime minister under the liberal Roh Moo-hyun administration. "The key of verifying the prime minister nominee is whether he has the government management philosophy and capability to deal with the challenges the country is facing, such as periodic pandemics, climate crises, polarization and low growth," he said.
"We will not hold it back and scratch unconditionally like the People Power Party used to do," said Yun Ho-jung, chairman of the DP's emergency countermeasures committee. "However, we will closely verify whether he has professionalism to over the Cabinet in a severe internal and external environment and morality that meets the public expectations."
However, political observers say it will not be difficult for Han to get approval from the National Assembly. As a series of ministerial hearings are expected near future, strong opposition from the first confirmation hearing may bring public fatigue. Besides, it may have a negative effect among swing voters in the upcoming local elections in the greater Seoul area.
"The transition committee has come up with a complicated one," a DP lawmaker said. "The party will have to verify in detail, but will not be able to oppose it strongly."
On the other hand, the most controversial issue in the hearing is likely to be Han's alleged involvement in the savings bank crisis as well as the Lone Star Funds' illegal acquisition of stakes in the Korea Exchange Bank (KEB) which caused nationwide turmoil. Civic groups argue that savings banks started to become weak after the Enforcement Decree of the Savings Bank Act was amended allowing savings banks to loosen their limit on corporate loans during Han's term as finance minister.
When asked by his alleged involvement in the Lone Star case, Han told reporters Monday that he was not involved.