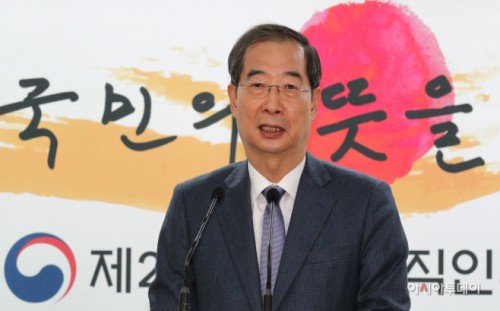 Former Prime Minister Han Duk-soo, who has been nominated as the first prime minister of the incoming government, speaks during a press conference at the presidential transition committee's office in Seoul on April 3, 2022./ Photographed by Jung Jae-hoon
AsiaToday reporter Lee Yoo-jin
President-elect Yoon Suk-yeol on Sunday named former Prime Minister Han Duk-soo as the first prime minister of his incoming government. Han is considered to be an economic bureaucrat who was graduated from Seoul National University with a Ph.D. in economics from Harvard University.
Yoon announced his nomination of Han as his first prime minister at the transition team's office in Seoul, and said, "Han is a person who has served in key positions in government du to his competence and expertise, regardless of political allegiance."
"The new government must lay the foundation for a new leap for our economy amid difficulties both inside and outside of the country and thoroughly prepare for an era in which the economy and security together emerge as key tasks the government must handle," Yoon said. "Han is the right person to coordinate the Cabinet and carry out state affairs based on his abundant experience in both public and private sectors."
Han was born in Jeonju, North Jeolla Province. He has served in top positions in both left- and right-leaning administrations. He served as trade minister of the former Ministry of Foreign Affairs and Trade as well as senior presidential secretary for economic affairs under the liberal Kim Dae-jung administration. Under the subsequent Roh Moo-hyun administration, he served as finance and economy minister and prime minister. Under the conservative Lee Myung-bak administration, he served as Korea's ambassador to the United States.
After taking the podium, Han said it was an honor to be named as the prime minister at a time when the internal and external economic and geopolitical circumstances are very grave. "On the other hand, I also feel a very heavy and large sense of responsibility," he said. "I will do my best to achieve good results while cooperating with President-elect Yoon Suk-yeol, the executive branch, the legislature, and the people."
"As the prime minister nominee, I will make efforts for discussions and communication to set up policies that can be realized. For this, national unity and cooperation between the conservative and liberal sides will be key elements for success," he said.
He pointed out diplomacy based on national interests, fiscal prudence, balance of international payments and improvements in productivity as some of the main national tasks.
Yoon is expected to submit a request for a nomination hearing of prime minister to the National Assembly soon.