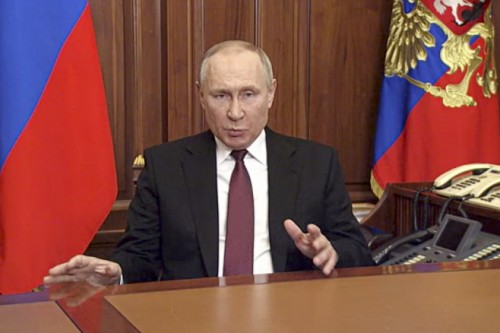 Russian President Vladimir Putin speaks during a televised address, in Moscow, Russia, on Feb. 24, 2022./ Provided by Russian Presidential Press Office / AP=Yonhap News
Washington correspondent Ha Man-joo
Russia has launched an all-out invasion of Ukraine by land, air and sea. Russian forces began attacking northeastern and southern parts of Ukraine at around 5 am Thursday, according to Ukraine's border guard service.
The Russian invasion began shortly after Russian President Vladimir Putin announced a "special military operation in Donbas" in a televised address. The attack involved airborne and amphibious landings, missile strikes from air, ground and naval forces, electronic and cyber attacks and a large ground force to occupy a large part of territory, showing that Putin's attack order has been carefully prepared.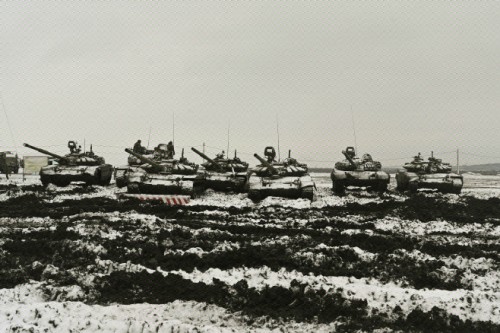 Russian T-72B3 tanks take part in drills at the Kadamovskiy firing range in the Rostov region in southern Russia on Jan. 12, 2022./ Source: AP=Yonhap News
"The state border of Ukraine in the area with the Russian Federation and the Republic of Belarus was attacked by Russian troops supported by Belarus," CNN reported citing the announcement of the Ukrainian state border service.
Attacks were being carried out in Luhansk, Sumy, Kharkiv, Chernihiv and Zhytomyr regions – areas on the eastern and northern borders of Ukraine, CNN reported citing the border service. "The attacks are targeting border units, border patrols and checkpoints using artillery, heavy equipment and small arms," CNN said.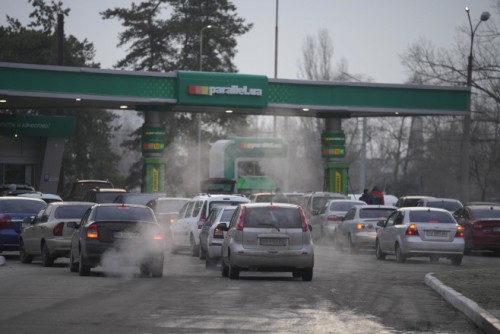 People wait for fuel at a gas station in Sievierodonetsk, Luhansk region, eastern Ukraine, on Feb. 24, 2022./ Source: AP=Yonhap News
Russia and Ukraine hadconflicting opinions about the situation after the beginning of the war. TheRussian military claimed in a statement that Ukraine's border forces "are notputting up any resistance to Russian units" and that it suppressed the Ukrainianair defense system. On the other hand, Ukraine claimed that its armed forcesshot down five Russian aircraft and a helicopter.
After the Russian invasion, Ukrainianleader Volodymyr Zelensky said in a brief video address that Russia isattacking his country's "military infrastructure" and border guards, and thathe heard explosions in several Ukrainian cities. He declared martial law acrossthe country, which could mobilize military reservists in a few hours.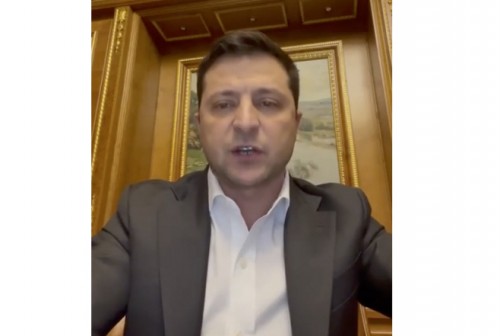 Ukrainian President Volodymyr Zelensky introduces martial law across the country on Feb. 24, 2022, in a video message./ Source: Ukrainian Presidential Press Office / AP=Yonhap News
The international community condemned Russia for attacking Ukraine. "President Putin has chosen a premeditated war that will bring a catastrophic loss of life and human suffering," US President Joe Biden said in a statement. "Russia alone is responsible for the death and destruction this attack will bring, and the United States and its Allies and partners will respond in a united and decisive way. The world will hold Russia accountable," he added.
"This is a grave breach of international law, and a serious threat to Euro-Atlantic security," NATO Secretary-General Jens Stoltenberg said in a statement. "Our thoughts are with Ukraine and the innocent women, men and children as they face this unprovoked attack and fear for their lives," European Union Commission President Ursula von der Leyen tweeted.