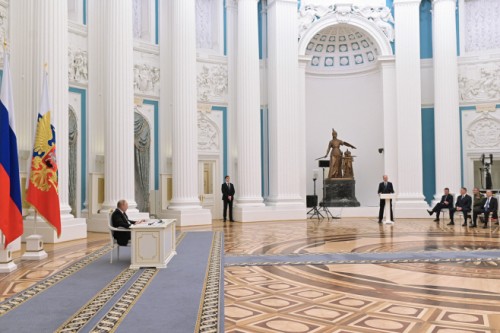 Russian President Vladimir Putin attends a meeting on national security held in Moscow on February 21, 2022./ Source: AP=Yonhap News
Washington correspondent Ha Man-joo
Russian President Vladimir Putin has ordered troops into eastern Ukraine's Donbas region on Monday.
The Kremlin said that Putin signed decrees requiring Russian troops to enter the Donetsk People's Republic (DPR) and the Luhansk People's Republic (LPR) in eastern Ukraine to maintain peace.
Earlier, Putin signed presidential decrees recognizing the independence of DPR and LPR declared by pro-Russian separatists, and also signed treaties of friendship and mutual assistance with both republics.
Citing two Russian presidential orders published by the state news agency RIA Novosti, the Washington Post (WP) said that Putin had approved the agreements for 10 years, allowing Russia to build military bases in Donetsk and Luhansk and jointly patrol their borders with Ukraine.
Russia has long denied that regular Russian forces are aiding the separatist fighters, although there have been conflicts in the Donbas region since 2014. However, their presence has been documented by the Ukranian and U.S. government for many years.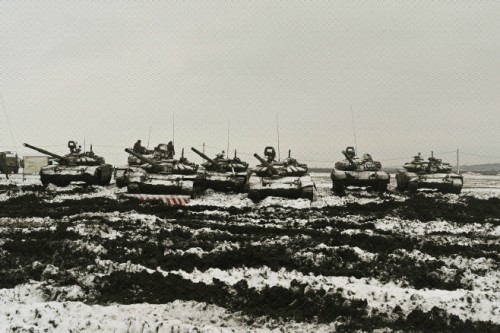 Russian T-72B3 tanks take part in drills at the Kadamovskiy firing range in the Rostov region in southern Russia on Jan. 12, 2022./ Source: AP=Yonhap News
Putin's move will allow Russian forces to be openly deployed in the Donbas region. If Russian troops die and the Kremlin blames the Ukranian forces, such an incident could be used as a pretext for a broader invasion of Ukraine by the Russian military, the WP reported.
Besides, considering that Putin was well-informed on German affairs as he witnessed the fall of the Berlin Wall when he was a KGB operative in Dresden, Germany, he might carry out a military action insisting on Ukraine's preemptive attack, just like when Adolf Hitler invaded Poland in 1939.
This is also a long-standing tactic of communist states. The Kim Il-sung regime backed by the Soviet Union started the Korean War claiming that Korean military invaded the North.
In fact, Russia did something similar in 2008 by invading Georgia, a firm ally of the United States, and then recognizing the independence of the regions of South Ossetia and Abkhazia, which had opposed the Georgian government.
In response, US President Joe Biden signed a decree on sanctions over Russia's recognition of the sovereignty of the LPR and DPR. The document establishes a ban for Americans to finance and invest in the two republics as well as on trade with them. However, it remains uncertain whether such sanctions would deter Putin's ambitions to build a Russian empire.