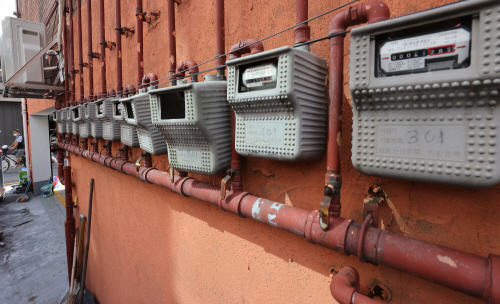 The photo shows a city gas meter in a residential area in Seoul/ Source: Yonhap News
AsiaToday reporter Son Cha-min
The South Korean government is considering raising the consumer price inflation forecast for next year to the 2.0 percent range. As inflation is expected to climb sharply in the first half of next year, the government is reviewing to freeze electricity and city gas rates next year.
According to related ministries on Sunday, the Ministry of Economy and Finance is considering a plan to present the inflation rate forecast for next year to 2.0 percent or higher from the previous 1.4 percent in the upcoming economic policy direction announcement.
The Bank of Korea (BOK) has maintained its inflation target at 2.0 percent since 2016. The central bank adjusted its price stabilization target of 2.5 to 3.5 percent from 2013 to 2015 to 2.0 percent from 2016 to 2018. It has continued to apply the 2.0 percent target since 2019.
In the economic policy directions and economic forecasts that the government announces twice a year, the government has never presented an inflation forecast of 2.0 percent or higher, the BOK's price stabilization target, since 2016.
However, due to the recent sharp rise in the inflation rate, the government is considering presenting the inflation rate forecast to 2 percent or higher for next year year.
This year, the inflation rate stayed in the 1 percent range until March, recorded the 2 percent range from April to September, and then jumped to 3.2 percent in October and 3.7 percent last month.
The inflation trend will continue for a while, and the inflation rate is highly likely to exceed 2 to 3 percent early next year. This is due to the aftermath of continuing disruptions in the global supply chain amid rising international oil prices.
The Organization for Economic Cooperation and Development (OECD) predicted Korea's inflation would rise to 2.1 percent next year, while the BOK projected it to be at 2 percent.
However, the government expects inflation to show a "high and low" trend next year. If the supply chain disruption issue resolves gradually and the base effect on the inflation rate works, which has risen towards the end of this year, the degree of inflation rate may be somewhat narrower in the second half of next year.
The inflation rate forecast presented by the government is not a simple forecast, but a figure that takes into account the government's policy will. As inflation is expected to soar in the first half of the year, the government is planning to make every effort to stabilize prices through various policies, including a freeze on utility rates.
Along with the economic policy direction announcement, the government is also planning a freeze on central utility rates such as electricity and city gas rates.
Last October, the government increased electricity rates for the first time in eight years, and is not planning to raise further.