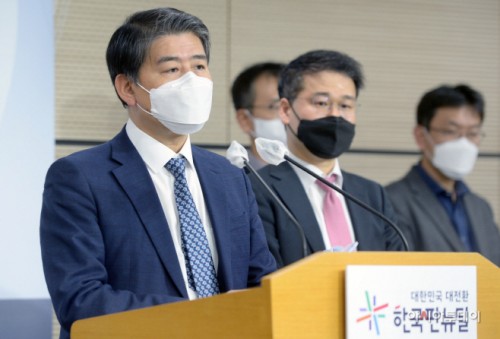 Joo Young-joon, director for industry policy at Seoul's Ministry of Trade, Industry and Energy held a joint briefing with the environment ministry on the government's emergency controls on urea and urea solution held at the Government Complex Sejong on November 11, 2021. /Source: The Ministry of Trade, Industry and Energy & The Ministry of Environment
AsiaToday reporter Choi Won-young
The government has issued emergency controls on supply and demand of urea solution to ease the ongoing supply crunch. Purchases can be only made at gas stations and reselling to a third party is banned. Passenger car drivers will be allowed to buy up to 10 liters of the agent at a time, and up to 30 liters of purchase is allowed for the use of trucks. It will be the government's second emergency control following its control on production and provision of face masks last year amid the pandemic.
The Ministry of Trade, Industry and Energy and the Ministry of Environment enacted an emergency supply-demand control on Thursday to stabilize the supply and demand of urea and urea water solution, and decided to temporarily implement it until the end of this year. South Korea has been struggling with a shortage of urea water solution as China tightened exports of fertilizers and related materials, including urea. The country's diplomatic authorities are making their efforts to bring in urea solution from abroad. In response, the industry and environment ministries came forward to take measures to control the limited quantity and distribute it evenly to the places where it is most needed.
To prevent hoarding, sales of urea solution will be allowed only at gas stations until the end of this year. The amount will be restricted to a maximum of 10 liters per passenger vehicle and up to 30 liters for trucks and construction and agricultural machinery. Reselling to a third party is prohibited.
The government decided to ban the export of urea and urea solution. Under the measures, vendors must report their imports, sales, prices and inventories of urea and urea solution to the government on a daily basis. They also have to report on expected shipment volumes over the next two months so the authorities can issue accurate forecasts. Any violation of the measures will be subject to imprisonment of up to three years or a fine of 100 million won ($84,817) under the Price Stabilization Act.
Some criticize that the government responded late on the supply issue of urea solution even though such shortage was predicted. Some also point out why the diplomatic authorities do not protest strongly against China's restrictions on the export of urea solution, which led to serious chaos in the country.
"Through close information sharing and consultation, both the industry ministry and the environment ministry will respond actively to the shortage of urea solution by identifying the bottlenecks based on the reports and taking necessary measures," said Joo Young-joon, director for industry policy at Seoul's Ministry of Trade, Industry and Energy, in a joint briefing held at the Government Complex Sejong.