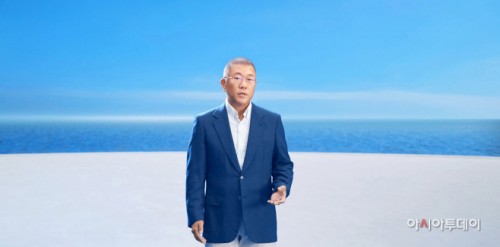 Hyundai Motor Group Chairman Chung Eui-sun at the firm's global hydrogen event, Hydrogen Wave, on Sept. 7, 2021./ Source: Hyundai Motor Group
AsiaToday reporter Choi Won-young
Hyundai Motor Group Chairman Chung Eui-sun unveiled his 20-year vision to foster a hydrogen society in South Korea. Observers say that Hyundai Motor Group has given a clear signal so that the government and industry could take action together by specifying a timeline encompassing hydrogen production, supply and consumption. South Korea's second-largest conglomerate has declared its intention to accelerate the transition to a hydrogen society a day before the launch of the Hydrogen Council, where the entire business world is risking its fortunes.
Chung announced the 'Hydrogen Vision 2040' during his speech on Tuesday at an online media event titled 'Hydrogen Wave', hosted by Hyundai Motor Group.
By 2023, Hyundai Motor plans to reveal third-generation hydrogen fuel cells at half price with enhanced durability. By 2028, it plans to employ hydrogen fuel cells in all of its new commercial car models.
Chung predicted that if economies of scale are achieved based on this, it would be possible to lower the price of hydrogen electric vehicles to the level of battery electric vehicles by 2030. Ultimately, the firm's vision is to apply hydrogen energy in all areas of life and industry such as homes, workplaces and factories.
"Hyundai Motor envisions a future society where hydrogen energy is available for everyone, everything and everywhere. We aim to achieve such a hydrogen society by 2040," Chung said.
"Hydrogen is definitely one of the powerful solutions for mankind to overcome environmental disasters," he said. "However, it is not easy to quickly transition to the hydrogen society we desire only with the efforts of some countries or companies. Hyundai Motor Group will make an active effort to advance the hydrogen society. Active participation from governments and companies is required."
The Hydrogen Council will be officially launched on Wednesday. Along with Chairman Chung, it will be participated by SK Group Chairman Chey Tae-won, Lotte Group Chairman Shin Dong-bin, POSCO Chairman Choi Jung-woo, Hanwha Group President Kim Dong-kwan, GS President Huh Se-hong, Hyundai Heavy Industries Group Vice President Chung Ki-sun, Doosan Group Chairman Park Jung-won, Hyosung Group Chairman Cho Hyun-joong, and Kolon Vice President Lee Kyu-hyo. On the same day, the visions of companies will be presented at the '2021 H2 MOBILITY+ENERGY Show' to be held at KINTEX in Goyang.