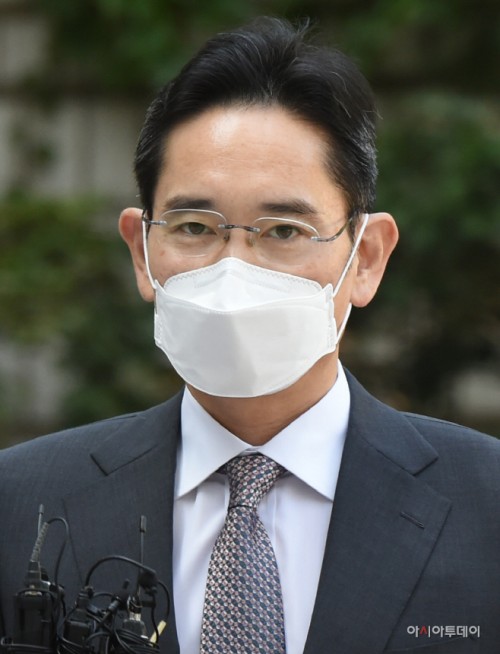 Samsung Electronics Vice Chairman Lee Jae-yong attends a trial on fraud and stock manipulation charges at the Seoul Central District Court on Aug.19, 2021./ Photographed by Jung Jae-hoon (@hoon79)
AsiaToday reporter Park Ji-eun
Samsung's investment clock started ticking 11 days after Lee Jae-yong, the de-facto leader of South Korea's largest conglomerate, was paroled. Samsung will invest a combined 240 trillion won (US$205 billion) and hire 40,000 more employees over the next three years. Of the 240 trillion won in new investment, 180 trillion won or 75 percent of the amount will be allocated to South Korea. This is the conglomerate's first answer to the 'economic reason', which was cited as the reason for Lee Jae-yong's parole. Samsung heir is known to have met with the management of major affiliates before the investment and employment announcement.
Samsung announced Tuesday that it will invest 240 trillion won to foster its strategic businesses, including semiconductors, biopharmaceutical products and 5G network sectors, over the next three years. This is aimed to prepare for a big change in industrial and international order expected in the post-pandemic era. Samsung said it will do its bet to fulfill its role as a "company that opens a new future."
The tech giant will focus on advanced technology research in the chip and 5G network fields. It will invest 171 trillion won by 2030 to become the No. 1 player in the system semiconductor industry. In the memory chip sector, it aims to cement its dominance in the global market. Samsung Electronics' memory semiconductor DRAM sales revenue came to US$10.51 billion in the second quarter, up 30.2 percent from a quarter earlier, according to TrendForce, a Taiwanese market tracker. It registered a 43.6 percent market share in the first quarter, up 1.6 percentage points from a quarter earlier.
Samsung BioLogics Co. and Samsung Bioepis Co. aim to become the world's No.1 player in the contract development and manufacturing organization (CDMO) sector for next-generation therapeutic biopharmaceuticals by 2023. They are determined to raise its global market share to 30 percent. "The pandemic has awakened the importance of vaccines, and the aging trend has intensified, so the biopharmaceutical business has become a strategically important segment that determines the competitiveness of a country," the tech giant said.
The next-generation communication sector, which the Samsung leader has been paying attention to, is also an investment target. Samsung Electronics will focus on advanced research on next-generation communication technology to preoccupy the 6G network market. Since the U.S sanctions began on Chinese tech giant Huawei, Samsung Electronics has been winning contracts with European and American mobile carriers to supply 5G network equipment. It signed agreements with U.S. telecom giant Verizon last year and Japan's NTT Docomo back in May.
Samsung also responded to national expectations. The company vowed to directly hire 40,000 more employees through 2023. It is the only conglomerate in the country's top four – Hyundai Motors, SK and LG are the other three – to restart open recruitment for university graduates. It claimed that its massive investment and production plan will have the effect of creating some 56,000 jobs.
"Lee Jae-yong met with key executives at Samsung Electronics' Seocho Office Building shortly after his parole on Aug. 13. Then he held a meeting for every business division of Samsung Electronics, including the memory and semiconductor foundry divisions," said a business official familiar with Samsung.