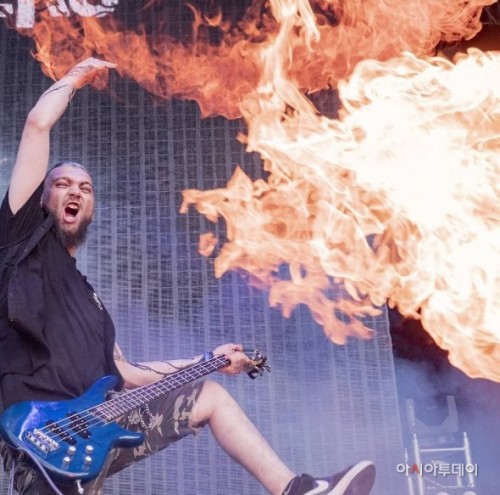 Muhammad Ali al-Jammal performs at the Rock Off 2019/ Source: Ali al-Jammal's Instagram (@ali_j_sy)
Istanbul correspondent Jeong Geun-ae & reporter Jeong Jae-ho
There was a 6-year-old boy who was fascinated by the unfamiliar music coming out from his uncle's room in Damascus, the capital of Syria. Without even knowing the genre, the kid loved to listen to two or three heavy metal songs from cassette tapes he received from his uncle on every birthday, and naturally became a metalhead. He is now stealing metal fans in Turkey. This is the story of Muhammad Ali al-Jammal, a 27-year-old bassist and vocalist in a number of metal bands, including Undertakers, T.O.D, and Teke.
Mr. Ali is the only Syrian refugee in the Turkish heavy metal industry. You can often encounter Syrian musicians who make Middle Eastern music or street music, but Mr. Ali is the only Syrian who stands on different kinds of heavy metal stages in Turkey.
This is not only common thing among Syrians, but also those from Middle Eastern countries. Rather than heavy metal or rock, Middle Eastern music with unique singing techniques and music instruments is popular in the region. Besides, most Muslims consider metal music as dangerous Satanic music, although it is much less severe in Damascus, home for many Syrian Orthodox Christians.
In fact, Mr. Ali had been arrested by the police for holding a metal concert with his friends in Syria. The reason for arrest was that he 'corrupted public morals.'
"To be honest, that was the only music activity I could do in Syria. I hardly got illegal CDs and a cheap electric guitar, but there was no way to learn how to play or tune. So I listened to music and played it in a similar way. I heard that regulation on metal music is harsher in other Middle Eastern countries," he said.
Perhaps that's why he has strong support from heavy metal fans in Middle East countries beyond Turkey, such as Syria, Iran, Lebanon, UAE, and Egypt.
The civil war put even greater restrictions on this young Syrian man's dream. In 2011, a massive massacre by government forces was carried out during anti-government protests against tyranny of Syrian president Bashar al-Assad. This led to an armed battle with citizen army, causing the outbreak of the Syrian civil war. It caused the Islamic sectarian fight, and the situation worsened with conflicts with powerful nations such as Turkey, the United States, Iran, and Russia, who took advantage of the situation in Syria.
People died every day in Damascus, whose situation was even better than other regions. Power was available only two hours a day and tap water only about 30 minutes in the morning. Ali's house was taken over by the government forces, and it became difficult to get food.
Through internet, Mr. Ali saw some Syrians living in peace after fleeing abroad. He saw a picture of his friend, who moved to Germany and went to a concert of Swedish metal band Opeth. He began thinking that you can't do anything in Syria. The thought ran through his mind after visiting Turkey with his cousin in 2013.
In the end, Mr. Ali moved to Turkey in 2014. He is the last generation to be easily recognized as a refugee after flying to Turkey by plane. Soon after, the Turkish government demanded visas from Syrians due to excessive influx of refugees. Considering the fact that it is difficult to obtain visas, the government apparently blocked the legal inflow of refugees. Currently, Syrians are entering Turkey illegally by foot.