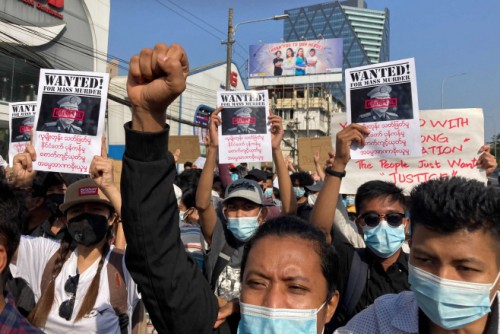 Protesters march on a street in Yangon, Myanmar, on Feb. 8, 2021./ Source: AP·Yonhap
Hanoi correspondent Jeong Li-na
Demonstrations continued for a third straight day across Myanmar against the military's removal and detention of elected leader Aung San Suu Kyi a week ago. The police used water cannon in the face of escalating nationwide protests, but the military has not yet stepped up against the protests.
The police in the capital of Naypyitaw used water cannon against protesters on Monday, reported foreign media outlets including Reuters and AFP.
Police fired water cannon against some of the thousands of protesters who had gathered, Reuters reported Monday, citing a social media footage of the incident. Some protesters appeared to have been injured when they were knocked to the ground. Police seemed to stop using the water cannon after protesters appealed to them, the news agency added. AFP also reported that its photographer at the scene saw two people injured.
Citizens' resistance to the military coup is on the third day. On Monday, a large number of workers supporting the 'general strike' declaration, as well as medical staff who took lead in a campaign of civil disobedience, and Buddhist monks who led the Saffron Revolution in 2007, joined the protest.
Hundreds of protesters have marched in Yangon, the largest city of Myanmar, on Monday. Local media outlets reported that the protesters shouted anti-military slogans and sang famous revolutionary songs from the 1988 student uprising against the military regime.
South Korean residents in Yangon and Myanmar university students shared the local situation through an online interview with AsiaToday. Residents 'A' and 'B', and Yangon University student 'C' were concerned that the military could punish the protesters.
"In 2015, foreigners were all out of Myanmar in fear of possible military coup because the National League for Democracy Party (NLD) led by Suu Kyi was likely to win. In the general election last year, we thought there would be no military intervention because the NLD returned to power. But a coup took place eventually," said South Korean resident 'A', who has been living in Yangon for 7 years,
'A' said that the local situation was relatively fine despite a day-long internet shutdown and the protests over the weekend. "Most of the South Korean residents thought it was natural rather than shocking. Instead, they are surprised that internet access has now been restored. But there are rumors that internet could be shutdown any minute," 'A' said.
Sunday's protests in Yangon were the biggest since the Saffron Revolution in 2007. The demonstrations continued on Monday. "We Koreans are refraining from going out. As far as I know, there is no corporate damage caused by the protests. Myanmar people are staging peaceful demonstrations," 'A' added.
"Since Sunday afternoon, Myanmar employees have been talking about a general strike to be held on Monday, "said South Korean resident 'B', who is running a business in Myanmar. "Local employees took a day off to join the protest. Virtually everything stopped today. I heard that Korean sewing factories nearby also stopped operating because almost all of the employees didn't go to work," 'B' said.
Both 'A' and 'B' said there was no panic buying yet despite the largest protest, but expressed concerns, saying "We don't know what would happen if the protests are overheated."
"I don't know why the military wants to change the government we have chosen. That's why people are going to the streets," said Yangon University student 'C'. "The military has once again knocked down our hopes that foreign investment would develop the economy and politics of Myanmar."
"All the citizens are angry. However, people are scared because they heard that the military had suppressed people and even shot some protesters. Those who staged street rallies were very brave," 'C' said. "The international community needs to show more concern for the incident. Please pay careful attention to prevent the Myanmar military from oppressing the citizens."