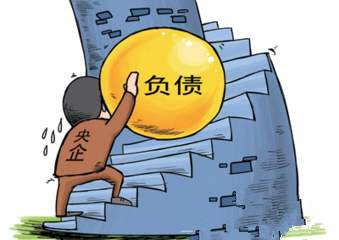 A cartoon showing that Chinese companies are facing a serious debt problem./ Source: China Economic Daily
Beijing correspondent Hong Soon-do
Many Chinese firms may go bankrupt next spring due to debts that have been soaring since the COVID-19 outbreak. In the worst-case scenario, the number of bankruptcy filings may be amplified in the coming months and years.
China's debt problem wasn't that serious until the end of the last century. However, things have changed dramatically since the global financial crisis in 2008. Its debt risk began to rise as the Chinese government tried to minimize the impact of the global financial crisis with its economic stimulus plan of a 4 trillion yuan through quantitative easing. Since then, the ratio of debt to gross national product (GDP) has increased exponentially, reaching a whopping 270% to 305% at the end of last year.
The China Guangfa Bank (CGB), one of China's well-known banks, analyzed that debt-to-GDP hit nearly 335% in September, and for the year the ratio is expected to reach about 365% of global GDP. China is the world's largest economy, but its debt problem seems difficult to handle. In fact, many financial experts and industry observers express concerns over China's debt risks. Many predict that many Chinese companies would face debt repayment pressure of 1 trillion yuan in March and Aprila next year. Things are likely to worsen considering the current situation where many companies are collapsing as they fail to repay debts. Some media outlets in Hong Kong are concerned that China may face bankruptcy crisis next spring.
The problem is that the repayment pressure of around 1 trillion yuan per month will continue even afterwards. Chinese economic authorities are aware of the situation. High-ranking officials are stressing that next year will be tough if the country doesn't pay attention to its debt problem. However, no clear measures have been taken yet.
This is because the Chinese economy is expected to overheat through a V-shaped recovery next year, and the debt risk is expected to rise inevitably.