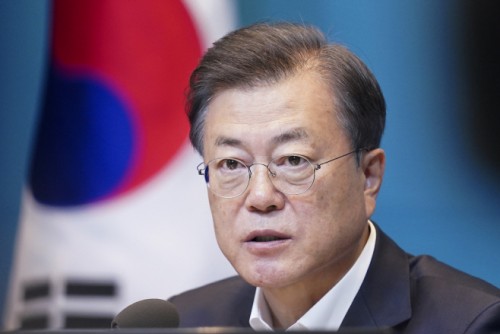 President Moon Jae-in speaks during a Cabinet meeting on May 12./ Source: Yonhap News
AsiaToday reporter Lee Seok-jong
Regarding the Korean Green New Deal project suggested by President Moon Jae-in for the post-coronavirus era, experts say the government needs to clarity the concept and make concrete plans at the national level.
The president has named the Green New Deal as a major state policy to prepare for the post-coronavirus era, in a Cabinet meeting on May 12.
During the meeting, Moon called on four related ministries, including the Ministry of Environment (MOE), the Ministry of Trade, Industry and Energy (MOTIE), the Ministry of SMEs and Startups (MSS) and the Ministry of Land, Infrastructure and Transport (MOLIT), to map out concrete plans, saying that the Green New Deal project could create many jobs and that the international community wants South Korea to play an active role.
The four ministries submitted a joint report over the project last Friday. After reviewing the report, the president is expected to announce specific plans of the Green New Deal.
"President Moon Jae-in's Green New Deal could create a lot of new jobs by itself," said presidential spokesperson Kang Min-seok. "Since there are many people who claim that the Green New Deal should be included in the Korean New Deal initiative, the president asked the related ministries to submit a report on whether the Green New Deal could create new jobs."
"The president wanted the related ministries to find out whether the project could create new jobs in addition to responding to climate change, including efforts to cut greenhouse gas emissions," the spokesman added.
According to a survey conducted on May 7 by Greenpeace South Korea, 61% of respondents said the Green New Deal policy will help boost national and global economy.
Among the benefits that can be obtained by adopting the Green New Deal policy, 84% of respondents said it could solve the fine dust problem. 84% chose it could allow the country convert to renewable energy while 81% chose it could strengthen industrial competitiveness.
When asked which green industry the government should support, 80% of respondents chose smart grid construction and 78% chose low-carbon building and energy efficiency-related industry.
The Green New Deal is rapidly emerging as an important agenda in the post-coronavirus era while a new global order is expected to be established due to the COVID-19 pandemic.