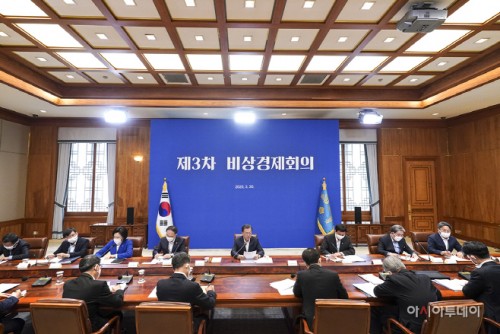 President Moon Jae-in presides over the third emergency economic meeting at the presidential Cheong Wa Dae on March 30, 2020./ Source: Cheong Wa Dae
By AsiaToday reporter Lee Seok-jong
The government has decided to provide emergency disaster support money of a maximum 1 million won (US$816) to all households except the top 30 percent by income. The decision came at the third emergency economic meeting chaired by President Moon Jae-in at Cheong Wa Dae on Monday.
The government also decided to ease the financial burden of low-income families, small-shop owners and the self-employed struggling with the fallout from the COVID-19 pandemic for fees for electrical use and the four social insurances, including health insurance, national pension, employment insurance and industrial accident compensation.
This is the first time for the government to introduce a policy to financially support people's living costs during a national crisis.
Under the scheme, a household of four or more members in the bottom 70 percent of the gross income index, or earning slightly over 7 million won a month, will be able to receive cash support of 1 million won. A one-person household will receive 400,000 won, a two-person family, 600,000 won, and a three-member household, 800,000 won. Around 14 million households comprising 35 million people would be eligible for the aid worth a total of 9.1 trillion won. The government is expected to complete the payments within May.
The government plans to submit a second supplementary budget bill worth 7.1 trillion won to the National Assembly next month.
"It was not an easy decision. We went through a lot of meetings and discussions. Everyone in this country has suffered from the COVID-19 pandemic and participated in the quarantine measures. Every citizen deserves to be rewarded for their suffering and efforts," Moon said during the meeting.
"However, the government needs to conserve as much in financial resources as possible to prepare for the unending economic shock and to respond quickly to job insecurity and corporate liquidity crises. For those who are more economically capable, I ask them to understand and make concessions for those who earn less," he said.
"The most important thing is prompt payment of the emergency disaster aid money. For this, we will quickly submit a second supplementary budget bill and seek to have it processed by the National Assembly this month immediately after the general election," the president said.
"The relief fund will play a major role in reviving the economy by boosting private consumption," Moon said.