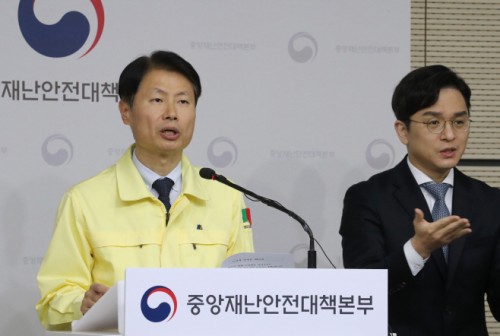 Vice Health Minister Kin Gang-lip holds a press briefing on Covid-19 at the government complex building in the administrative city of Sejong on March 3, 2020./ Source: Yonhap News
By AsiaToday reporter Joo Sung-sik
As the number of new coronavirus cases exceeded 5,000 in the country, the government is now focusing on securing hospital beds for critically ill patients in the hardest-hit city of Daegu and its neighboring North Gyeongsang Province.
South Korea confirmed 374 new cases Tuesday, taking the national total to 5,186, the Korea Centers for Disease Control and Prevention (KCDC) said.
According to the KCDC, the total number of cases in Daegu and North Gyeongsang stood at 3,601 and 685, respectively, accounting to 89.1 percent of total confirmed cases nationwide. The number of confirmed cases in capital Seoul, Gyeonggi Province and Busan stood at 98, 94, and 90, respectively.
So far, 28 people have died from the virus. Daegu reported one more death from the virus, but the new death was not included in an official update. The 29th patient was a 77-year-old man who had been treated under quarantine at Keimyung University Dongsan Medical Center in Daegu. South Korea has released 34 fully recovered patients from hospitals as of Monday at midnight, up 3 from a day earlier.
The government has continued to secure more makeshift centers where patients with mild symptoms in Daegu and North Gyeongsang Provicne can be admitted. The centers are nonmedical facilities prepared under the government's revised treatment guidelines aimed at providing care in accordance with the severity of a patient's condition and securing more hospital beds for patients that need to be hospitalized. The government decided to categorize confirmed patients into four groups depending on the seriousness of their conditions.
According to the government, the National Education Training Institute in Daegu opened its doors on Monday to a total of 138 patients with mild symptoms. Two other treatment centers in Yeongdeok and Gyeongju in North Gyeongsang, which can accommodate around 450 patients in total, are expected to open for patients with mild symptoms.
In addition, the government decided to shift its focus for Covid-19 tests from the Shincheonji religious group to ordinary Daegu residents as it's become more apparent that reported cases emerged from community transmission.
"The number of Daegu's virus patients who are not tied to the religious sect has been on the rise and we believe the spread of the virus in Daegu has reached a certain level of community transmission," said Vice Health Minister Kim Gang-lip. "There is a need for us to expand tests on ordinary citizens in Daegu because confirmed cases among ordinary citizens are not small," Kim said.