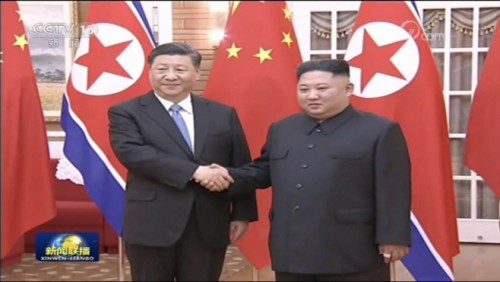 Chinese President Xi Jinping and North Korean leader Kim Jong-un shake hands prior to their summit talks in Pyongyang on June 20./ Image captured from footage of China's CCTV
By AsiaToday reporter Lee Seok-jong
North Korean leader Kim Jong-un and Chinese President Xi jinping held a summit in Pyongyang on Thursday. Although the details of the summit are not revealed, the two leaders seem to have discussed in depth the development of the North Korea-China relationship as well progress for denuclearization and peace regime for the Korean Peninsula.
What is really catching people's attention is what kind of message the North Korean leader asked Xi to deliver to US President Donald Trump regarding denuclearization. Xi and Trump are scheduled to meet at the upcoming G20 summit, which takes place in Osaka, Japan, on June 28-29.
It is highly anticipated that the Kim-Xi summit will help revive momentum for nuclear negotiations between the North and the U.S. that have been stalled since the second North Korea-U.S. summit in Hanoi last February.
Xi said in an op-ed published in the North Korean state newspaper Rodong Sinmun on Wednesday, a day before his visit to Pyongyang, that he will contribute to make progress in negotiations on Korean Peninsula issue.
Besides, Trump seems to have called for a certain role for Xi in resuming talks with the North during his phone conversation with Xi on June 18. As a result, China seems have focused on taking part in the denuclearization process led by the two Koreas and the United States, by inviting Chairman Kim to come back to the negotiation table during the Pyongyang summit.
Xi departed from Beijing Capital International Airport on Thursday at around 9:10 am (local time), accompanied by First Lady Peng Liyuan, and arrived at Pyongyang's Sunan International Airport at noon. Xi and his wife were greeted by the North's leader and his wife, Ri Sol-ju. Kim's sister Kim Yo-jong and officials who played prominent role in recent nuclear talks with the United States were also on hand.