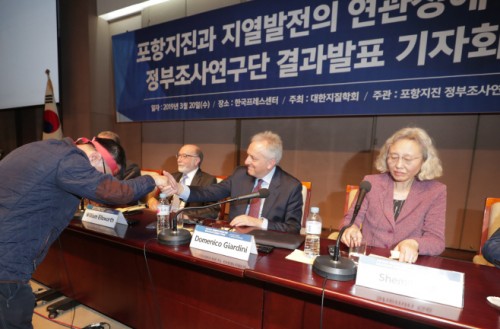 A citizen of Pohang gives a bow to a state-led investigation team of experts, who announced the results of its study on the case of the Pohang earthquake at a press conference in Seoul on March 20, 2019./ Source: Yonhap News
By AsiaToday reporter Choi Hyun-min
The government will permanently suspend the geothermal power plant project that triggered the country's second-largest-ever earthquake in Pohang two years ago.
According to the findings announced on Wednesday by a state-led investigation team, the 5.4 magnitude tremor in November 2017 was caused by a nearby geothermal power plant. The investigation team said the high-pressure water injected into one of the nearby pits vitalized an unknown fault zone, thereby triggering the quake.
A geothermal power plant works by injecting fluids at high pressure into a hole about four and five kilometers underground to turn them into steam. Experts said this could have weakened the ground in the area, leading to an earthquake.
The investigation team, comprised of 17 experts from both South Korea and abroad, carried out a year-long scientific investigation into the exact cause of the Pohang quake.
After the quake, speculation was rampant that the geothermal power plant may have caused it. The investigation team was launched in March last year to see if there was a correlation between the quakes and the facility. By then, President Moon Jae-in ordered the government to review the impact of the geothermal project on the Pohang quake.
"The government accepts the results from the investigation team," the government said in a statement, expressing its apologies to the citizens of Pohang. "The government will do its best to take necessary measures following these results."
In addition, the government decided to permanently suspend the geothermal power plant project throughout the relevant procedure in cooperation with Pohang city. The corresponding site will be recovered safely in consultation with experts.
While a citizen audit is requested by the Board of Audit and Inspection, the government will separately carry out an inspection in the process of pursuing its project to commercialize geothermal power plants and to select suitable sites to house such plants.
Besides, the government will spend about 225.7 billion won over the next five years to repair houses and infrastructure in the town of Heunghae in Pohang while discussing the necessity of additional measures with relevant ministries and Pohang city.
The Pohang earthquake was the second-strongest recorded in South Korea's modern history. After the quake, the government designated Pohang as a special disaster zone to repair the damage and take relief measures.