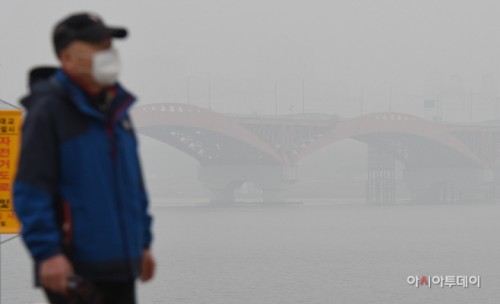 Nanji Hangang Park in western Seoul is thick with fine dust on March 5, 2019./ Photographed by Kim Hyun-woo (cjswo2112@)
By AsiaToday reporter Ahn Jong-ho
A fine dust watch has been issued along the East Sea in Gangwon Province, which is well known for its clean air, for the first time since the beginning of the year.
Emergency measures to combat ultrafine dust particles, or PM 2.5, were issued from 6 a.m. to 10 a.m. in the southern and the northern parts of Yongdong Area, followed by a warning of fine dust particles, or PM 10, according to the Korea Meteorological Administration and Greenpeace on Tuesday.
The hazardous particles blanketed South Korea last year as well.
In 2018, the density of PM 2.5 in South Korea was the second highest among OECD member countries, following Chile. By cities, 44 cities in South Korean entered the global ultrafine dust list. Anseong in the Gyeonggi Province was ranked 13th, the highest among other South Korean cities. Also included are Wonju in the Gangwon Province, Jeongu in the North Jeolla Province, Pyeongtaek and Icheon in the Gyeonggi Province, Cheongju in the North Cheungcheong Province, and Siheung and Yangju in the Gyeonggi Province.
The government has also started to set up countermeasures against fine dust pollution.
Regarding high concentrated fine dust issue, Environment Minister Cho Myung-rae said Tuesday the country will need to "limit economic activities and regulate the number of vehicles on the roads if necessary."
"As high-concentrated fine dust particles are a class one carcinogen, they can be a great risk to people's life if they continue to blanket as they do now," Cho said. "Since there are not many things to lower the fine dust levels, we need to pursue every means and citizen participation is important."
In addition, the environment minister said that voluntary reduction of operation hours and utilization rates of coal power plants and other large-scale dust emission facilities could be part of additional measures.
"We have little choices, so people agree that we should prioritize people's life safety and implement effective measures that can help to lower the fine dust level even though they have legal flaws," the minister said.