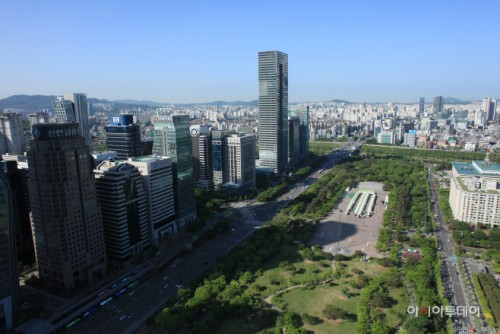 The view of the Federation of Korean Industries (FKI) and the stock streets in Yeouido, Seoul./ Source: FKI
By AsiaToday reporter Choi Won-young
South Korean businesses have been busy repositioning and restructuring themselves to adapt to the ever-changing internal and external business environments this year. Major conglomerates have either taken off their owner risks or welcomed younger leaders. They focused on building a stronger governance structure at home while changing their business structure that fits new paradigms abroad.
The world trade market in 2018 has been shaken by the intensifying US-China trade war. The U.S. threatened to impose steeper tariffs of up to 25 percent on imported passenger vehicles and steel based on the Trade Expansion Act, while China strengthened its protectionism on its industries of the future, making it difficult for many South Korean companies to expand their presence in the market.
With a recognition that their G2 export dependence turned into a risk, South Korean companies turned their eyes to Southeast Asia and the government responded positively with its new trade policy announcement. Many prominent companies, such as Samsung, LG, SK, and Hanwha are eyeing opportunities in the Southeast Asian market, particularly the Vietnamese market, with their investment plans.
The hero of the Korean industry this year was undoubtedly the semiconductor industry. The country's exports exceeded $600 billion for the first time this year on upbeat sales of semiconductors in the era of the fourth industrial revolution. However, the Korean export industries are under pressure amid concerns that exports would significantly lose momentum from early next year. "In the next three years, we will be in a fierce competition with China over the global semiconductor leadership," said Joo Dae-young, a researcher at the Korea Institute for Industrial Economics & Trade (KIET).
Last September, a group of business leaders accompanied President Moon Jae-in to Pyongyang. The visit of Mount Baekdu by Samsung heir Lee Jae-yong, SK Chairman Chey Tae-won, and other South Korean business tycoons raised expectations for inter-Korean economic cooperation, but many are still cautious about inter-Korean economic cooperation amid the economic sanctions on the North Korean regime.
The controversy over the Moon administration's drive to raise the minimum wage, cut working hours to 52 per week, and phase out nuclear power continued throughout the year, but the aftermath is expected to begin in earnest next year. There is a continuing discussion of the scope of the minimum wage while large conglomerates continue to trial and error for a 52-hour workweek system. Affected by the country's nuclear phase-out policy, Doosan is struggling to keep up a new business axis while watching the fall of its core affiliates, Doosan Heavy Industries & Construction.
International oil prices have repeatedly went up and down throughout the year. Dubai crude oil, which hit $80 per barrel, fell as low as $40 a barrel a few months later. South Korean oil refining, chemical and shipbuilding companies, which largely depend on oil price trends, started to reduce risks and find ways to survive. South Korean oil refining chemical companies started to turn their eyes on high value-added products while shipbuilders began to focus on eco-friendly and smart products.
The business world believes that the tensions and concerns that have been continuously rising throughout the year forced South Korean companies to quickly protect themselves. "It's hard to predict the global business environment next year. The government and the companies have all joined forces to overcome such challenges, so they will be able to handle the challenges more quickly and flexibly," a business official said.