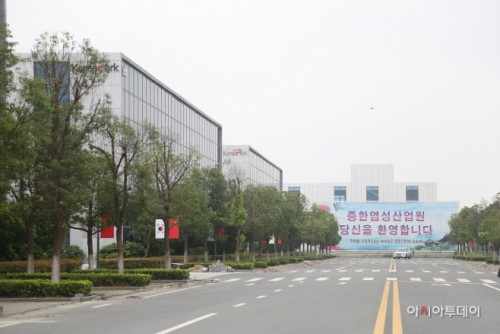 Yancheng City announced Monday that the State Council approved the construction of China-Korea Yancheng Industrial Park.

By Lee Ji-hoon, Yancheng correspondent,AsiaToday
China has approved the construction of China-South Korea industrial parks, including China-Korea Yancheng Industrial Park, in three cities. The construction projects were placed on hold with the deployment of a US anti-missile system in South Korea. However, the Chinese government seemingly have allowed to build such industrial parks with the recent Korea-China summit as a momentum. The three cities are expected to boost the economic cooperation between the two countries.
China's Yancheng City announced Monday that the Chinese State Council gave the permission to build China-Korea industrial parks in three cities - Yancheng in Jiangsu Province, Yantai in Shandong Province and Huizhou in Guangdong Province. Yancheng, which has grown rapidly with Kia Motors' entry in 2003, is one of pro-Korean cities in China. Nearly 1,000 Korean firms have invested US$ 5 billion in the city. Yantai is where an excavator plant of Doosan Infracore is constructed, while Huizhou is where smartphone plant of Samsung Electronics is situated.
South Korea and China have pushed for the construction of industrial parks since they signed a free trade agreement in 2015. However, the plans were postponed last year as the central government delayed its approval due to conflicts over the U.S.THAAD anti-missile system.
The State Council urged the three industrial zones to actively carry out the China-South Korea free trade agreement and to learn experiences of China's pilot free trade zones like Shanghai. It also urged Korea-China industrial parks to take the lead in deepening supply-side reforms, carrying out the country's innovation drive strategy, and opening new markets.
In addition, it stressed that the industrial parks should take the lead in carrying out development strategies for the two countries, co-building the Belt and Road initiative and deepening trade and investment cooperation. The State Council also instructed the governments of Jiangsu Province, Shandong Province, and Guangdong Province to set up a concrete implementation plan and actively promote the construction projects.
"The approval of the State Council is likely to remove all of the regulations that blocked the economic cooperation between the two countries,' said an official from the China-Korea Yancheng Industrial Park.