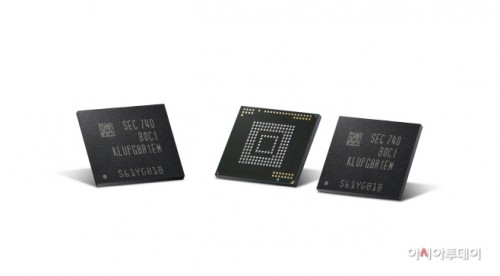 The world's first 512 GB embedded Universal Flash Storage (eUFS) produced by Samsung Electronics./ Source: Samsung Electronics

By AsiaToday reporter Bae Ji-yoon
Samsung Electronics announced Tuesday that it has begun mass production of the world's first 512-gigabyte (GB) embedded Universal Flash Storage (eUFS) for next-generation mobile devices.
The tech giant said it has doubled the capacity 21 months after it launched the 256GB eUFS in February last year.
Samsung's new 512GB eUFS is consisted of eight 64-layer 512Gb V-NAND chips and a controller chip. Compared to the existing 48-layer 256Gb V-NAND based 256GB product, it has doubled the capacity while keeping the same amount of space.
The 64-layer 512Gb V-NAND's high-performance controller is quicker in changing virtual addresses to physical ones through its own mapping technology and saves power better than previous ones.
Users can save 130 files of 10-minute 4K Ultra HD videos with the new eUFS while only 13 of the same-sized videos are allowed with a 64 GB eUFS adopted on existing smartphones.
It also provides outstanding storage capacity and performance.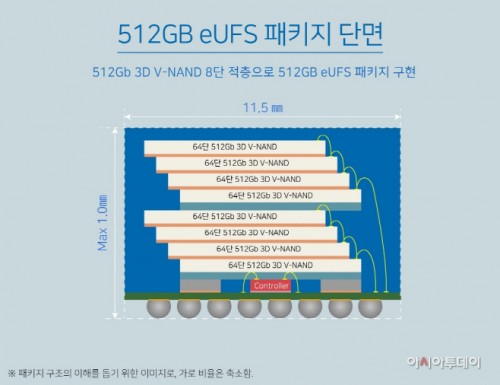 The structure of 512GB eUFS package./ Source: Samsung Electronics

The 512GB embedded memory enables transferring a 5GB full HD video clip to an SSD in about 6 seconds, over 8 times faster than a typical micro SSD card.
In addition, the eUFS' random write speed is 400 times faster than the 100 IOPS speed of a conventional micro SD card, allowing users to enjoy complicated multimedia experiences, such as video downloading and file searching in dual-app viewing mode, without buffering.
"The new 512GB eUFS provides solutions to the technological limits of micro SD cards in which their speed slows down on mobile devices," said Han Jae-soo, executive vice president of Memory Sales & Marking at Samsung Electronics. "By assuring a stable supply of the 512 GB eUFS, Samsung will be contributing to timely launches of next-generation mobile devices by mobile manufacturers around the world."