By Hong Soon-do, Beijing correspondent, AsiaToday
It seems that China has decided to virtually end its ban on Hallyu, or the Korean wave, that has been in place in the country over a year due to the dispute over the deployment of the U.S. Terminal High Altitude Area Defense (THAAD) missile defense system in South Korea. As a result, Korean stars who have had little activity in China are likely to spread their wings to China.
According to a source familiar with Hallyu in Beijing on Thursday, the end of hallyu ban is being detected in many areas. One of the examples is Mamamoo's appearance on Chinese TV shows. The popular South Korean girl group is known to have flown to China to film an episode for a music show of Sichuan satellite TV channel on Tuesday, the day when both South Korean and Chinese governments jointly announced the settlement of the THAAD dispute. This has been confirmed by some Chinese fans, who took pictures of the arrival of Mamamoo and shared them online.
In the same context, large online contents platforms, such as iQiyi and Youku, are moving to resume importing Korean dramas. Some small- and mid-sized platforms, which have relatively smaller amount of Korean contents, are more active in importing Korean dramas. Lian Minghua, CEO of Beijing-based Lian Yi Entertainment, said, "To be honest, we have not been able to get enough of the Hallyu contents because of the mood. But now that the government has announced its position on the THAAD dispute, there is no reason not to import good Korean programs. If possible, I would like to turn my eyes to the joint cultural content projects between the two countries."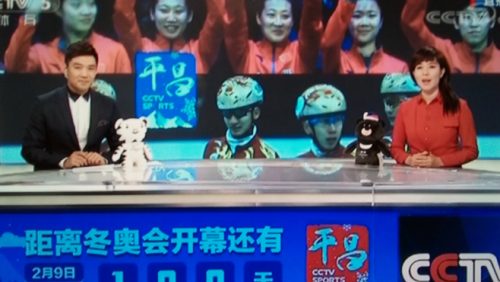 A special program on PyeongChang Winter Olympic Games, which was aired on China's CCTV on Wednesday. It proves that the Hallyu ban has been lifted./ Source: A screenshot of CCTV
China's state-run China Central Television, or CCTV, has aired a special program on the PyeongChang 2018 Olympics for 30 minutes on Wednesday, stressing the South Korea-China relations. This is one of the evidence that the Hallyu ban has been lifted. Another example is that Phoenix Television broadcasted PyeongChang Olympics' torch relay live via its Korea-China exchange channel on Wednesday.
In fact, the Chinese authorities' lift of Hallyu ban has been somewhat detected in advance. A special talk was held between Asia Today president Woo Jong-soon and Long Yuxiang, executive chairman of China International Cultural Communication Center in Busan on Oct. 12. During the talk, Long confidently said that Hallyu ban will be lifted soon. Considering that he is a ministerial-level official, it is quite possible that he had already known that the Chinese authorities decided to resolve the THAAD dispute and end the ban on Hallyu. In any case, the Hallyu ban is likely to remain in history.