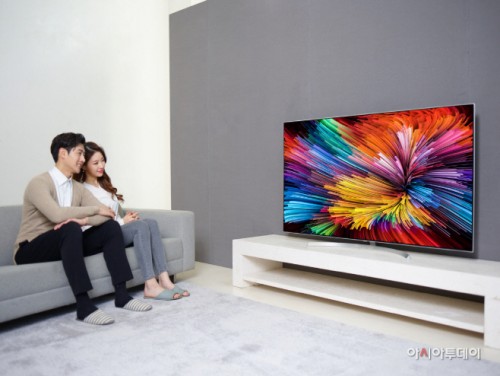 LG Electronics models are watching Super Ultra HD TV made of LCD panel. / Source: LG Electronics
By AsiaToday reporter Bae Ji-yoon
Concerns of South Korean display panel manufacturers, including Samsung Display and LG Display, are growing as LCD panel prices are falling. It seems the companies are feeling the huge burden of pulling OLED sales as the down cycle of the LCD industry is expected to continue until the second quarter of next year and the Chinese rivals are chasing them closely.
According to market researcher WitsView on Monday, LCD panel prices for TVs, monitors and laptops in the second half of this month fell 2.7%, 0.5%, and 0.6%, respectively. In particular, the display industry is already worried about sluggish 3Q earnings as the LCD industry has entered the down cycle.
Especially LG Display, whose 90% of its sales come from LCD, is expected to be hit hard for a long time. The offensive supply by Chinese display makers seems to have contributed to the negative impact on the company's earnings. China's BOE is aiming at mass production of 65-inch and above-size TV panels after its investment in 10.5th-generation.
Therefore, many industry observers believe that China will catch up with Korean LCD production capacity within this year. WitsView predicted that South Korea's LCD panel production for 2017 will decline to 28.8 percent from 34.1 percent last year. In contrast, China's supply is expected to make up 35.7 percent from 30.1 percent a year ago, to dominate the market.
In addition, Taiwan's Innolux and other large LCD panel makers are increasing their production capacity. As a result, Taiwan's LCD production capacity is expected to rise slightly to 29.8 percent from 28.9%, surpassing Korea to gain second place. In the end, Korea is expected to hand over its crown to China in 12 years.
An industry official said, "China is overtaking Korea by selling low-quality LCDs, and it is seeking to change its customer base by importing LCDs from Taiwan."
After all, domestic companies have to be competitive in OLED sector. However, LG Display's OLED accounts for only around 10%. Therefore, LG Display plans to invest 15 trillion won by 2020 to boost its OLED production capacity. It is also discussing with the government for the approval of the establishment of a new OLED plnat in Guangzhou, China.
On the other hand, Samsung Display has successfully increased its OLED portion among its display panels. An industry official said, "We succeeded in raising Samsung Display's share of OLED sales to more than 60% in the second quarter."