By Hong Soon-do, Beijing correspondent, AsiaToday
There is a long tradition related to personnel within China's top leadership. It's known as the rule of qi-shang, ba-xia(七上八下, literally meaning "seven up, eight down"), referring to the convention that if a Politburo Standing Committee (PSC) member is 68 or older at the time of a party congress, he must retire, but if he is 67 or younger, he may still enter the committee. Since the early 1990s, PSC members who were 68 or older at the time of a Party Congress have retired without exception.
However, the rule is highly likely to be broken. The 69-year-old Wang Qishan, head of the party's graft-busting Central Commission for Discipline Inspection, is expected to stay on in the top leadership as he will likely to remain at his post as a PSC member at the 19th National Congress on Oct. 18. If it comes to reality, the famous "qi-shang, ba-xia" rule will be broken. In this case, Xi Jinping, who will be 69 at the 20th Congress in 2022, could naturally pave the way for long-term ruling.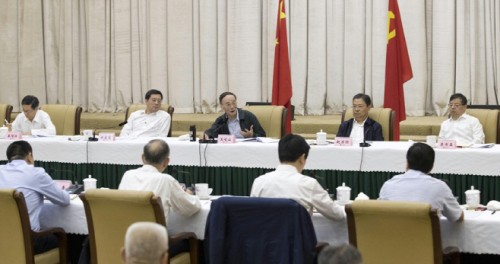 Wang Qishan, head of the party's Central Commission for Discipline Inspection, recently attended a symposium held in Changsha, Hunan Province./ Source: Xinhua
This assertion is not an exaggeration considering the fact that Wang Qishan is currently engaged in political activities actively unlike other standing committee members. According to Beijing sources on Thursday, he attended many symposiums on September 3-5. One of the symposiums include the one held in Changsha, capital of central China's Hunan Province. This made the headlines in many Chinese media outlets, including CCTV, reflecting his current political status. Wang Qishan also received a media spotlight when he attended a symposium for the 100th anniversary of the birth of Yao Yilin at the Great Hall of the People on Wednesday. Definitely, he didn't look like he was going to fade into the mists of power soon.
Of course, he aggressive activity will not guarantee that he will be a PSC member again in the 19th National Congress. Besides, he is not in a good situation. For instance, he has been embroiled in corruption rumors as well as liver cancer rumors. Furthermore, there is a rumor that the secret annual Chinese leaders' summer meeting, better known as the Beidaihe meeting, concluded last month that Wang was retiring.

However, things can be different if you recall that he is the closest ally of Chinese President Xi Jinping, who has already fully established his one-man rule system. Adding the fact that he is a powerful aide who will support Xi's power, it's natural to expect that his power will remain undiminished even after the 19th National Congress.