By Hong Soon-do, Beijing correspondent, AsiaToday
There are many companies in the world that are strong yet little known. It's especially true in China, where most people don't like to reveal their skills and power. There are so many massive but little known companies in China.
The biggest example would be Weiqiao Pioneering Group, a private company in Shandong province. Despite its quiet business activities, Weiqiao took the third spot with annual revenue of 373.1 billion yuan (US$56.8 billion) last year among the top 500 private companies in China. It's not hard to see how great this company is considering the fact that the first and second places were taken by Huawei and Suning, the two leading global companies in China. Besides, Weiqiao Group is higher ranked than China's three well-known IT giants Baidu, Alibaba, and Tencent (collectively known as BAT) in the list.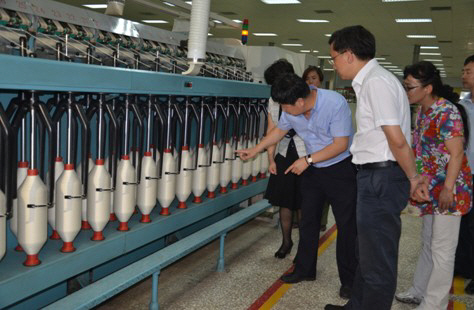 A view of a cotton textile factory of Weiqiao. The company's mainstream business is related to cotton textile. However, it is now preparing for the fourth industrial revolution./ Source: Weiqiao Pioneering Group website

According to the All-China Federation of Industry and Commerce (ACFIC), this company was established in 1984 as a small cotton textile company with some 60 employees. In the early days, it was as small as any other rural enterprise. However, it went viral because of its good quality and soon became one of the largest companies in China. It now engages in spinning, weaving, dyeing, home textiles, fashion as well as aluminum. It even has a power plant to produce electricity. Obviously, its founder Zhang Shiping (71) is one of the wealthiest men in China.
Of course, Weiqiao has a fatal weakness. Most of its business are going downhill and they have been running thanks to the big domestic market. In short, there is no business related to future industries that require revolution. However, Weiqiao is not just sitting there and waiting for the downfall. It's gradually making efforts to transform itself. For instance, it recently formed a task force to prepare for the fourth industrial revolution. It's hard to say whether Weiqiao will successfully transform itself from a powerful player in the primary industry to a rising player in the quaternary industry. But looking at its past performance, it doesn't seem to be impossible.