By Hong Soon-do, Beijing correspondent, AsiaToday
China and Russia, whose relations are at their best time in history, are expected to cooperate in aerospace industry as well. Therefore, there is much attention towards whether the cooperation between the two countries will provide a foothold to surpass that of the United States, which boasts the world's most powerful aerospace industry. In addition, China-Russia ties are expected to be strengthened further.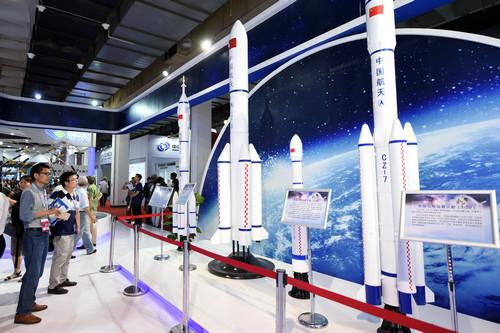 Rockets displayed at a recent arms exhibition held by the Chinese People's Liberation Army in commemoration of the 90th anniversary of its foundation. If cooperation between China and Russia intensifies in the related fields, it won't be impossible for China to catch up with the United States./ Source: Xinhua's internal publication Cankao xiaoxi (Reference News)
This is quite reasonable considering the fact that China and Russia are set to sign a milestone agreement on joint space exploration from 2018 to 2022, which is expected to be signed in October. According to well-informed source in Beijing on Thursday, the bilateral agreement will cover lunar and deep space exploration and landing. Considering the collaboration expected in developing manned spacecrafts, satellite navigation system and telecommunication, it's not an exaggeration to say that the two countries are practically forming something that goes beyond the blood alliance.

There are clear reasons why the two countries are trying to establish a close relationship in the aerospace sector. Above all, both countries believe that a stronger strategic alliance is necessary in order to win the competition against the U.S., the potential common enemy. We must also mention the fact that China has a lot of capital, and Russia has technological power equal to that of the United States. It seems that through complementary cooperation, both agree with the idea of minimizing weak points and maximizing strength. Besides, the belief in synergy has also led to an active partnership between the two. Zou Yubo, an aerospace expert, revealed that China and Russia's cooperation is an excellent decision, saying, "If China and Russia try to catch up with the United States on their own, it's hard to tell when they will reach their goals. But if both countries team up, the results can be clear. At least in the next 10 years, the three countries will be able to compete at the same level."
In view of the recent international situation, China and Russia's move will have a significant effect on other areas in the future. This means that Beijing-Moscow relations could strengthen further. Obviously, their close relations will play a considerable burden on the U.S.. The analysis that the new Cold War era where the Chinese-Russian alliance and the United States are confronted seems to have hit right at the spot.