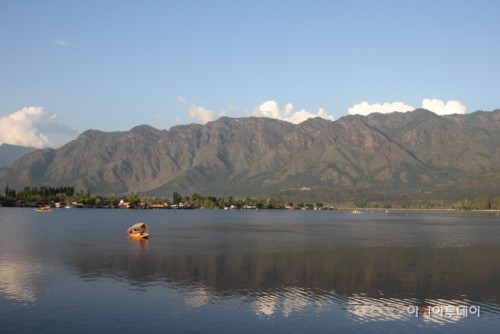 Srinagar, the capital of the state of Jammu and Kashmir, is located in the northwestern part of India and is called 'Heaven on Earth destroyed by human beings.'/ Photographed by Jeong In-seo

By Jeong In-seo, New Delhi correspondent, AsiaToday
South Korean backpackers are visiting the dangerous Srinagar, which is known as "Heaven on Earth destroyed by human beings".
Srinagar belongs to the state of Jammu & Kashmir in the northwestern part of India. It's the only Muslim majority city in India. Since 1989, more than 70,000 people have been killed in fighting with the government of India, with more than a dozen separatist rebels fighting for Kashmir's independence or merger with Pakistan. South Korea's Ministry of Foreign Affairs has warned tourists not to travel to this area.
However, many Korean travelers are heading to the region, putting themselves in danger.
In Manali of the state of northern Himachal Pradesh, it's not hard to meet Korean backpackers heading to Srinagar. Many of them prefer the route from Manali to Leh to Srinagar. In Leh, there is famous Pangong Tso, the highest lake in the world. It's also a shooting point of the familiar Indian film, 3 Idiots.
In an open group chatroom for India trip (Kakao Talk group chatroom), many people claim that Srinagar is not a dangerous place to travel./ Photographed by Jeong In-seo

On July 6, I was able to meet Korean backpackers, whose destination was Srinagar, in a restaurant in Manali. They also said they chose the route to Srinagar via Leh. When I asked them why they were going to the place that the foreign ministry warned not to travel, they answered, "To be honest, we don't think Srinagar is a dangerous place. A lot of tourists have already visited Srinagar, and there was no problem so we don't think it's dangerous." They showed me some messages from their group chatroom, saying, "Many people in group chatroom don't regard Srinagar as a dangerous place to travel."
In the group chatroom, I was able to find many messages about Srinagar as what they've told me. Only some of the travelers were negative, and most of the travelers were positive about travelling to Srinagar.
Is Srinagar really a safe place to travel? Local media outlets report every day about the protests and shootings that take place in Srinagar. Back in June, three people were killed in a shooting near Dal Lake, one of the most popular tourist destinations in the region. Last year, the death of Hizbul Mujahideen commander Burhan Wani in a gun battle with government forces triggered massive protests for two months, killing 79 protesters and two police officers and injuring more than 10,000 people.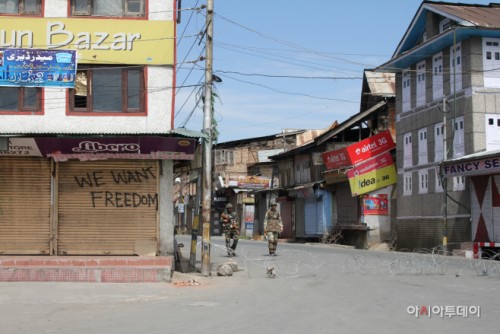 In Jammu and Kashmir, more than 70,000 people have been killed since 1989 due to the battles between separatist rebels and government forces./ Photographed by Jeong In-seo
Local media outlets warn that Jammu and Kashmir is a dangerous place for travelers. Recently, India and China each deployed 3,000 troops near Doka La, where the borders of China, India, and Bhutan meet. This means that troops can be also deployed in Jammu and Kashmir, that is divisionally controlled by three countries - India, China, and Pakistan - and that local war can occur.
Despite these concerns, Korean backpackers continue to visit Srinagar and Kashmir. , "Reckless curiosity is the biggest problem," a Korean backpacker who asked for anonymity pointed out. "Some people want to do the exact opposite of what they're told. Even if you come home safe, you shouldn't recommend it to other travelers." On the other hand, another traveler said, "I've been to Srinagar before. It's more safe than people think, so there's nothing wrong with recommending a trip to Srinagar."
I decided to ask the thoughts of Indian people. Gurmeet, a high school teacher in Delhi, said that Srinagar is "a very dangerous place." He said, "Some people go on a trip to Srinagar, but most people do not travel there. It's like a place in the middle of a war. Bullets and stones fly within the city and travelling to a place where a bomb can explode anytime is like a suicide." Bidesh Kumar, who had been on vacation at Chandigar, was also cynical about travelling to Srinagar. He said, "My family and I will not travel there even if they give me money. Do you really have to go to a dangerous place to take an adventure?" The majority of Indian people were pessimistic about traveling to Srinagar.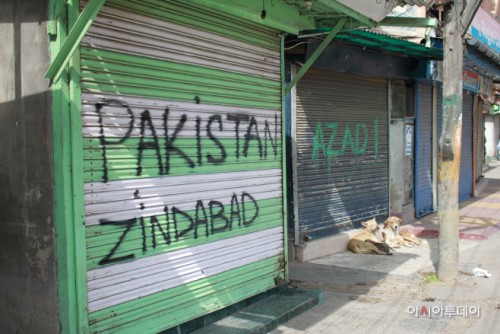 In Srinagar, many people are holding anti-India protests and fighting for Kashmir's independence or merger with neighboring Pakistan./ Photographed by Jeong In-seo
Many point out that South Korean backpackers are insensitive to security threat since local media outlets and people warn that Srinagar is a dangerous place to visit. While the Korean Embassy in India has warned travelers not to visit Srinagar, the dangerous visits to Srinagar by Korean travelers still continue.