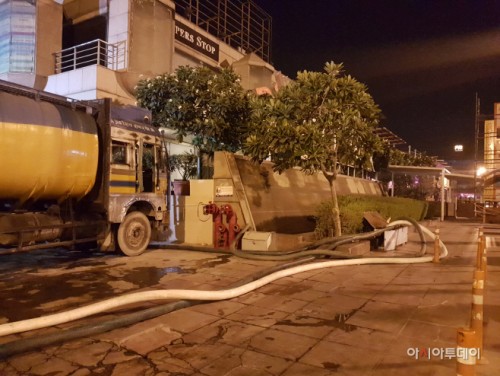 The water tanker mafia is supplying water at a shopping mall in New Delhi at midnight on May 23./ Photographed by Jeong In-seo

By Jeong In-seo, New Delhi correspondent, AsiaToday
Millions of Indian residents are forced to buy stolen water from so-called the "water mafia" due to the country's acute water shortage.
On May 22, I headed to Tamil Sangam in southern New Delhi. It was a very hot day around 40 degrees. A little girl carrying a jar bigger than her body caught my eyes. "I came to get water, but I only filled the jar about half way up," she said. Her friends were holding a bucket of water each. Some of them were full of water, and some of them were empty. The girl with the jar said, "There will be no more water today."
Tamil Sangnam is a slum in southern New Delhi. In this region, water pipes are not properly installed and most residents get water supply using their water buckets. They get drinking water once a week when government-sponsored water tankers arrive.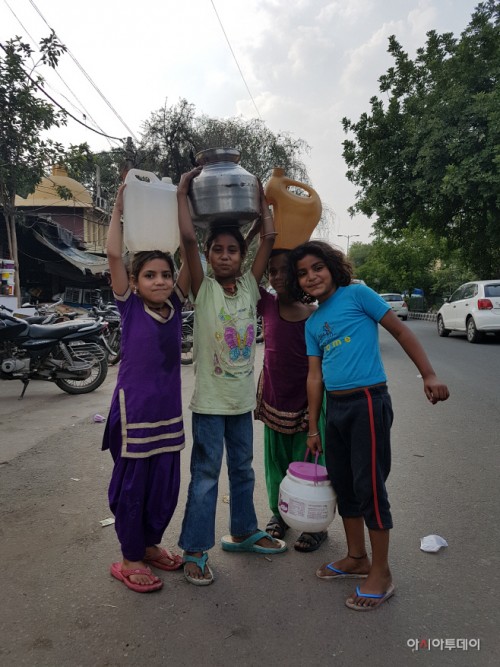 Girls are carrying big water buckets on their heads in Tamil Sangnam, New Delhi. However, some of them failed to fill their buckets with water./ Photographed by Jeong In-seo
However, local residents were fed up with continued droughts and lack of water. Devendra Singh (51), who has been selling fans for more than 20 years, said, "I took a shower for the first time in a week when it rained a few days ago. I usually don't wash properly because there is no water. We suffer severe water scarcity every year. But this is not what irritates us most. All of us hate them."
The object of his anger was the "Water Mafia", an informal group of locals that illegally dig a well or steal water from the government, and then resell it at a premium.
I was able to hear the details of the water mafia's threats. They have damaged plastic hoses of water tankers that came once a week and intentionally damaged the government-sponsored water tanks, making it impossible to supply water to the residents. Then they were selling water at an expensive price to residents who did not get water in time. One of the local residents said, "I want to get mad at them, but I can't. Police aren't on our side. Without them, we have to get water from the Yamuna Rive, which is 30 kilometers away."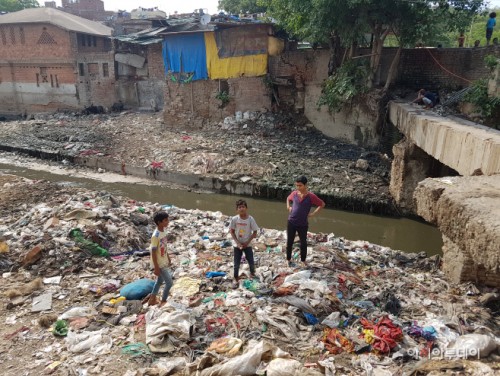 The small stream in Tamil Sangnam is unusable because of garbage./ Photographed by Jeong In-seo
Kundan (41), the father of six, is also suffering because of the water mafia. "I have to spend 3,000 rupees ($46) out of a monthly salary of 13,000 rupees ($200) on clean water. By saving this, I could send my children to a better school," he said. "I'm just waiting for the monsoon to come."
One resident claimed, "The water that should be supplied to us is stolen by the water mafia and it's supplied to shopping malls and hotels." He said, "Every day, I watch them delivering water to nearby malls and hotels late at night and early in the morning."
To find the truth, I headed to the shopping mall the resident mentioned, at midnight on Tuesday. The mall is the largest in New Delhi. I was able to find a water tanker at the entrance of the mall. It wasn't a government-sponsored one, but a private water tanker.
The water tanker (left) run by the Delhi government is silver-colored with the Delhi government agency logo on it. The photo shows the residents of Tughlakabad receiving water for the first time in ten days./ Photographed by Jeong In-seo
As I was looking closely at the water tanker, the driver came up. When I asked him, "Where does the water come from?" He replied, "You don't need to know," with a "go away" gesture. After asking few more questions, he said he brought the water from Yamuna River. After completing the water supply, the driver drove off. In less than ten minutes, the next water tanker stopped near the mall. This driver didn't answer anything, neither. From midnight to 2 am, a total of seven water tankers supplied water to the shopping mall. None of them responded to the interview.
The residents of Delhi also had a real aversion to the water mafia. Bhavesh (30), who lives in Greater Kailash-3 in New Delhi, said, "A few weeks ago, water supply had been cut off in the entire village. I was forced to buy water from the water mafia. I couldn't complain about the water they provided. They threatened us that they would stop water supply if we complained."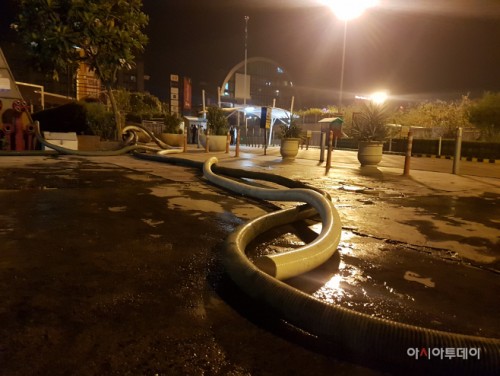 The shopping mall where the water tanker mafia drove off. A total of seven large water tankers supplied to the mall from midnight to 2 am./ Photographed by Jeong In-seo
Delhi Chief Minister Arvind Kejriwal, elected in 2015, pledged to set up a water supply system throughout the city, provide free water, and to execute crackdown on the water mafia. However, these pledges are not being kept.