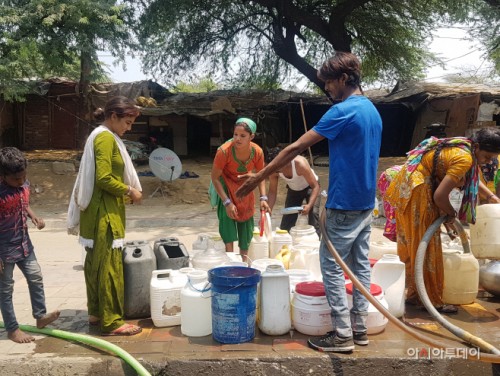 Residents of Tughlakabad receive potable water on Saturday./ Photographed by Jeong In-seo
By Jeong In-seo, New Delhi correspondent, AsiaToday
Every year, India reels under severe heat wave and drought every year and is now facing acute water shortage again.
On Saturday, I headed to south Delhi's Tughlakabad area. Despite the heat wave reaching over 40 degrees Celsius, people were standing on the road with empty water buckets in their hands.
Everyone was waiting for water. An hour passed, but the water tank vehicle didn't come. People became tired and some of them went home. When a few people were left, the vehicle arrived. As the vehicle stopped, the residents began to fill their buckets with water.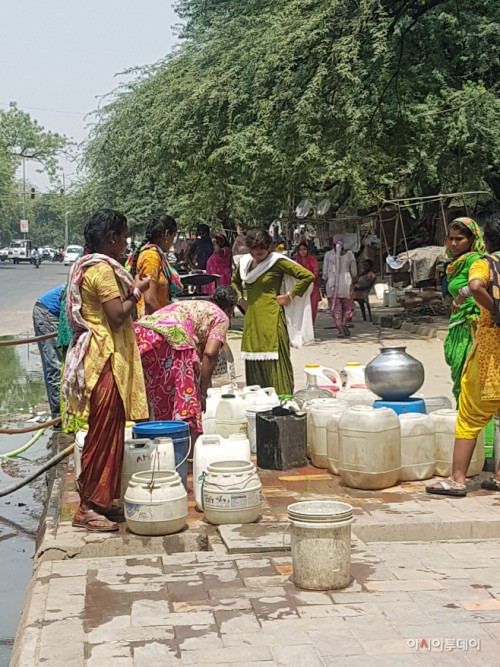 Many residents complained of water shortage due to poor water supply./ Photographed by Jeong In-seo

People rushed to get more water, pushing each other. Then some residents raised their voice, which eventually grew into a physical fight. The fight did end only after the water tanker took up the water hose.
The reason for their fight was to secure tap water. Residents were on edge because drinking water supply has been bad for several days.
"We are suffering from water shortage every year. It was very hard last year, and things are tough this year, too," said Raj Singh, 41, who has been living in Tughlakabad for 10 years. "Usually, drinking water is provided every two days. However, recently, water has not been supplied for more than 10 days. It's hard to get even drinking water."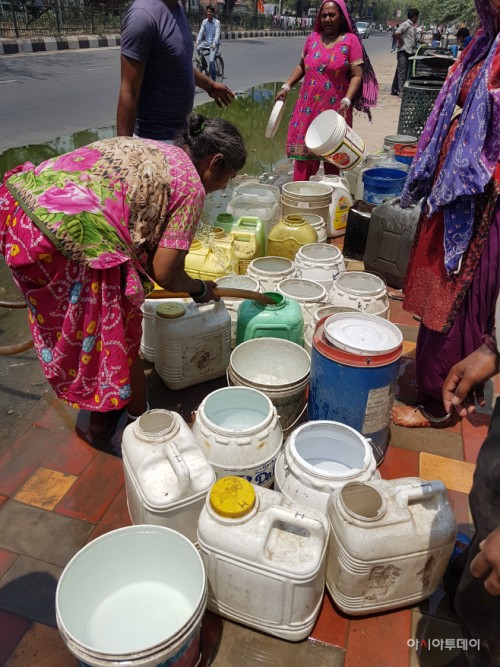 Residents of Tughlakabad said the government is responsible for the repetitive drinking water crisis./ Photographed by Jeong In-seo

Yashaswini, 52, who has been living in the region for over 30 years after getting married at 18, said that the government is responsible for the repeated water crisis. "Politicians have promised to solve the water shortage. But they haven't solved this problem so far. They would never have worried about drinking water. Every day, we are suffering from water shortage. They seem out of heart to solve the problem."
During interviews with residents, more people flocked to get water. However, the water in the water tank soon ran out. A girl who brought a water bottle bigger than her body looked devastated.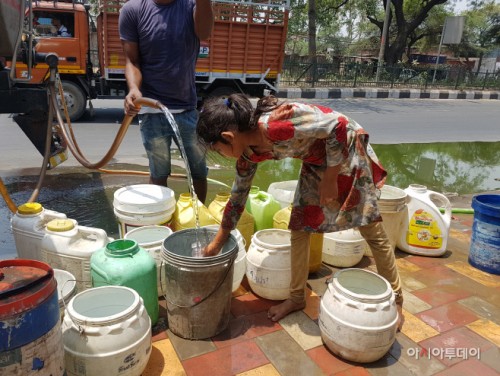 A young girl is filling a bucket with water./ Photographed by Jeong In-seo

Punima Das, 8, tearfully said, "I have not been able to take a bath for more than a week. My family has run out of drinking water." She went back home with an empty bucket.
This is not the only place that is experiencing water shortage. Most parts of Delhi are reportedly facing poor drinking water supply. According to Hindustan Times, India Today (IT) and other local media reports on May 11, only 20% of the Delhi area is supplied with water and the remaining 80% are suffering from serious water shortage.
Korean residents in Delhi are also known to be experiencing water problems. Lee Jin-ho, 30, expressed his discomfort, "I couldn't do the laundry for a week because I was out of water." He said, "Other residents are also suffering from water problems. I hope the water problem will be solved soon." A Korean resident, who asked for anonymity, said, "I haven' been able to shower properly because there is no water in my house. When water supply is cut off, I go to my office to take a shower."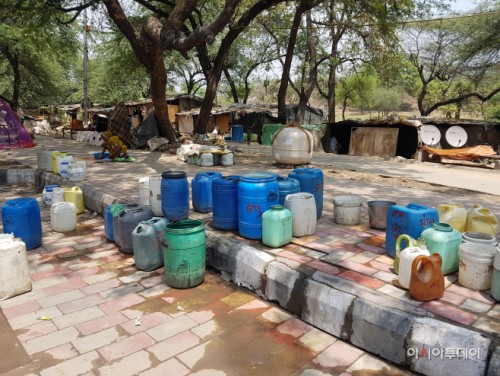 Roads of New Delhi's Tughlakabad are full of buckets./ Photographed by Jeong In-seo

Due to poor drinking water supply, some residents are reportedly buying drinking water from so called "water mafia." However, this is beyond the poor's reach. A resident who has once received water from water mafia, said, "I want to buy water from water mafia, but it's practically impossible. I earn 7,000 rupees ($108) a month. I can't make a living if I spend 2,000 rupees ($31) a month for water."
With continuous complaints from the residents, the Delhi government announced that there are problems with water supply at a press conference held on May 11. At the press conference, Aam Admi Party legislator Vishesh Ravi said, "The contamination of water of Yamuna is so serious that it cannot supply water properly. There are many toxic substances in the Yamuna River, such as ammonia. The government is trying to solve the problem, and it's doing the best to supply water smoothly."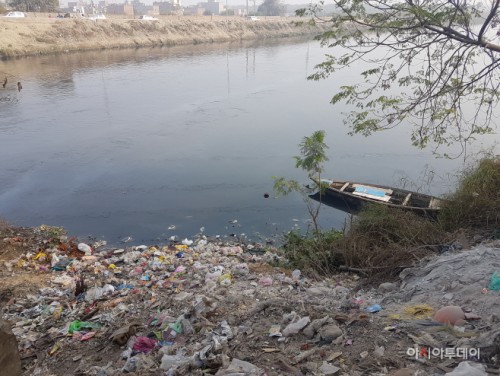 The Delhi government said the real reason behind water crisis is Yamuna River's contamination./ Photographed by Jeong In-seo

Last year, nearly 1,600 people in India died due to severe heat wave and drought, and 330 million people, nearly one-quarter of the country's population, suffered from water shortage.
Meanwhile, the Indian government has not been able to provide clear measures for repetitive water shortage, and the suffering of the residents is likely to continue.