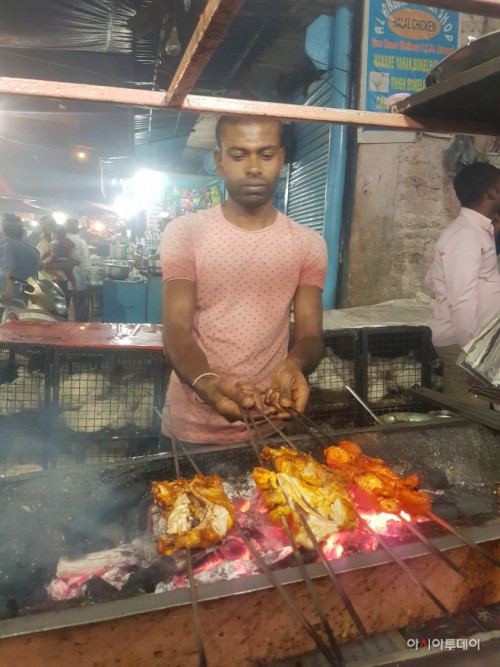 Nizamuddin West, which is located in the east of New Delhi, sells buffalo meat, chicken and goat meat./ Photographed by Jeong In-seo

By Jeong In-seo, New Delhi correspondent, AsiaToday – The Indian government has begun cracking down on illegal slaughterhouses and butcher shops, leaving Muslims in India concerned.
Nizamuddin West, located in the east of New Delhi, was smoky on evening on March 27. As I walked into the neighborhood, I encountered a crowd gathered on the sidewalk. They were eating something with relish. I took a seat in the corner of the shop to check the food and asked for a menu. The waiter said, "We don't have a menu. We only serve one thing." So I ordered the same thing that people were eating.
After a while, the waiter brought me a plate of 10 pieces of unidentified meat with lemon and onion. When I bit it, I tasted the familiar taste of beef. It tasted like Korean roast beef with Indian spice of Masala. When I asked the waiter to find out what it was, he replied, "It's not beef, but buffalo."
Mohamed Khan (51), who have been selling buffalo meat for 30 years at Nizamuddin West, couldn't sleep well at nights thinking he might close the restaurant soon. "More than 200 people visit our restaurant daily to eat buffalo. But now I'm living with anxiety that I may have to shut down my business," he said.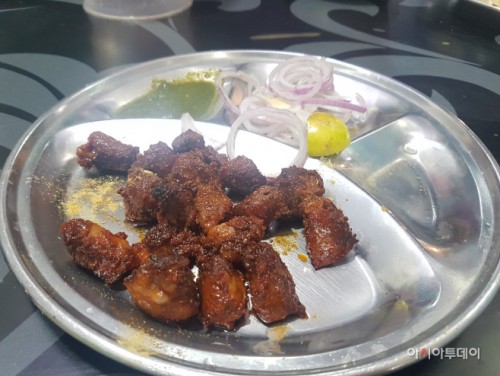 The water buffalo meat that I had met at Nizamuddin West. It's as cheap as 40 rupees (US $0.62) for one serving./ Photographed by Jeong In-seo

The reason behind his anxiety is because the Hindu priest-cum-politician Yogi Adityanath began to crack down fiercely on the state's butcher shops shortly after taking office in the northern Indian state of Uttar Pradesh on March 19. According to local reports, most of the meat shops have been shut down in the state's capital, Lucknow, due to the massive crackdown.
The problem is that most of the buffalo meats coming to Mr. Mohamed's shop come from nearby Noida of Uttar Pradesh. "Most of the meat sold at the store came from Noida. However, the supply of meat has not progressed smoothly for several days. If this situation continues, I may have to close the store," he said. "We don't eat beef because cows are considered sacred in Hinduism. We only kill buffalos to sell. But if they crack down like this without going through a confirmation process, it's the same as killing Muslims."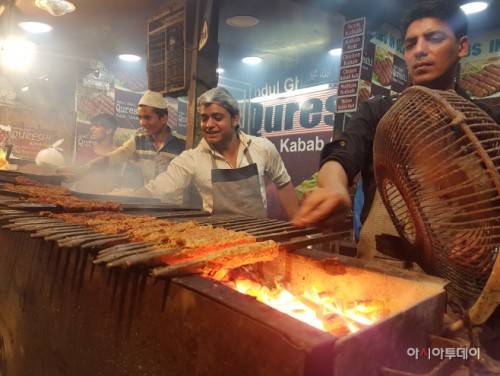 This restaurant, located in Chandni Chowk, sells kababs made of buffalo meat. "More than 300 customers come to the restaurant, and 60% of them are Hindus", the manager said./ Photographed by Jeong In-seo

I visited another buffalo store in Chandni Chowk of North Delhi. The restaurant was crowded with people. They were selling kababs made of buffalo meat and sliced vegetables.
Five employees were busy making kababs in the restaurant. But sore manager Ajit Qureshi, 24, said he couldn't shake off his anxiety. "More than 300 customers come to the restaurant, and 60% of them are Hindus," the manager said. "Hindus eat buffalos, too. But I don't understand why they are hindering Muslims to do business. This is clearly religious discrimination."
Many water buffalo shop owners are paying attention to the April election. Another butcher, who asked for anonymity, said, "It's okay so far, but we should pay attention to the upcoming election. There is an election in Delhi this April. I would like to see the Aam Aadmi Party (AAP) party serve consecutive term. If Bharatiya Janata Party (BJP) wins the election like other states, we will no longer be able to do our business."
The New York Times said in its recent editorial that the appointment of Hindu radical Yogi Adityanath by Prime Minister Naredra Modi and the ruling party as the new chief minister of Uttar Pradesh could be a nightmare for India's minorities and threaten the economic development that Modi has progressed.