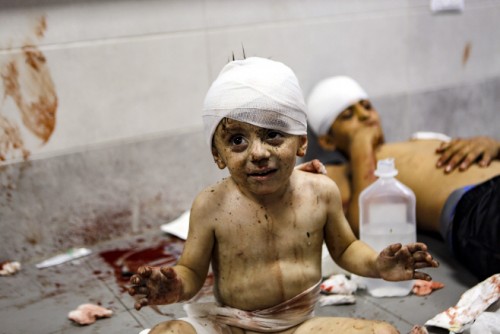 Scores of injured Palestinian children are being taken to Al-Shifa Hospital following an Israeli airstrike in Gaza City, Gaza, on October 17, 2023./ Source: AP-Yonhap News
Washington correspondent Ha Man-joo
The conflict between Israel and Palestinian militant Hamas, which enters its 11th day, is at a critical crossroads following a large explosion that hit a hospital compound in Gaza on Tuesday. More than 500 people died in a mysterious explosion at a civilian hospital in Gaza, raising international anger and concerns that the involvement of Lebanese militant Hezbollah and Iran could spark a Middle East war.
Gaza's health authorities said at least 500 people, including children and women, have been killed when the Israel Defense Forces (IDF) attacked Gaza City's al-Ahli hospital, which has thousands of refugees and patients. Hamas called the attack a "genocide" and a "clear war crime."
On the other hand, the Israeli military countered that the incident was caused by an accidental rocket fire by Palestinian Islamic Jihad (PIJ) militant group in Gaza.
The disaster is expected to serve as an opportunity to either prevent or postpone the ground war in that it showed the tragedy in advance that could occur if the Israeli military started a ground war in Gaza. The Israeli military has taken a step back, saying that the ground war in Gaza has not been decided before the disaster, with the aim of removing Hamas' high-level leadership and commanders. "We are preparing for the next stages," IDF spokesman Lt. Col. Richard Hecht said on Thursday. "Everybody's talking about the ground offensive, but it might be something different," he told a regular briefing with reporters.
On the other hand, however, there is a risk of escalating war due to the formation of strong anti-Israel public opinion in the Arab world.